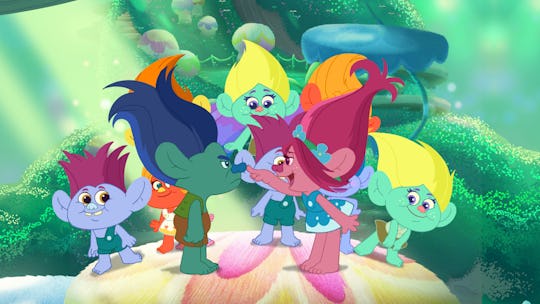 Netflix
Here's How You Can Buy The Soundtrack To 'Trolls: The Beat Goes On'
One of the best parts about the Trolls movie was all of the music and I'd be lying if I said I don't still listen to the soundtrack even after I drop my son off at preschool in the morning. So with the spin-off series coming to Netflix, I can't help but wonder: can you buy the soundtrack to Trolls: The Beat Goes On? The new Netflix series will feature a ton of original songs, as opposed to the covers that the original movie and holiday special showcased. And although hearing Glee-like covers of some great music was something I very much enjoyed, the music from the animated series so far proves the soundtrack this time around will be just as catchy.
Season 1 of Trolls: The Beat Goes On will be made available on Netflix starting Jan. 19, which is also when you'll be able to buy the soundtrack. It was even available for pre-order on Amazon in the days and weeks leading up to the premiere of the all-new series, but you'll be able to listen to it faster than you can say "The Bergens are coming!"
Skylar Astin, who's already proven himself to be a stellar singer via the Pitch Perfect franchise, voices Branch in the animated Trolls series and tweeted about the original music fans can expect from the show. This includes a catchy apology song from Branch himself that will not only be fun to sing, but also hopefully teach some younger viewers about right and wrong.
The soundtrack for Trolls: The Beat Goes On features just six songs, but it's only $4.99, which is really a price you can't beat. The movie that came before it had a total of 13 songs on its soundtrack while the Trolls Holiday special soundtrack consisted of seven tracks. So having six new songs for the series seems like a decent amount and enough to warrant buying the soundtrack for your kids (or for yourself if the mood strikes you). Plus, considering that this is a full series, the music needs to make way for more in-depth storytelling.
"We just get to delve in a little bit deeper because there are so many new stories to tell and since we don't want to be redundant we're not going to keep telling stories where Poppy is being encouraging and Branch is being discouraging," Astin told Kidzworld.com during a recent interview. "We get to actually have a little bit of role reversal sometimes, where Branch will be a little more optimistic and driving the story more and have his own reasons to go on his own journey and have to coax Poppy and vice-versa."
He also added that there could be some lessons for kids to take away from the show as well. "I think that something that [kids will] be able to draw from this show is while they're laughing they may receive a subtle message that is something that they can use in their lives," he said. "Something that helps them grow and shape them with some really great morals and ethics and done with glitter and glitter farts and colors and felt."
All of the music on the Trolls: The Beat Goes On soundtrack is original, and each track was written by Alana Da Fonseca, who has previously written songs for Fifty Shades of Grey and The Secret Life of Pets, among many others. So you can expect catchy originals of the best quality. And if the Trolls Netflix series is a success, fans can no doubt expect more new music each season.
Check out Romper's new video series, Romper's Doula Diaries:
Watch full episodes of Romper's Doula Diaries on Facebook Watch.