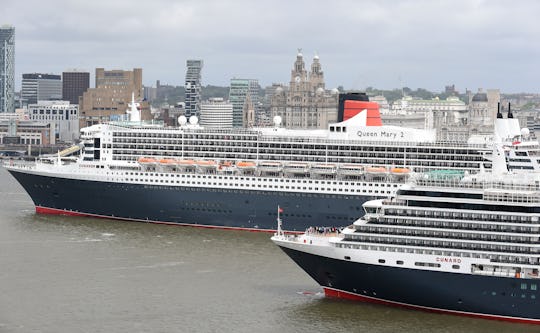 PAUL ELLIS/AFP/Getty Images
Can You Get Reimbursed For A Cruise Because Of Zika? Travelers Have Options
As the list of health concerns connected to the Zika virus grows, travelers, and pregnant travelers in particular, continue to be cautioned about some of their travel destinations. But travelers who previously booked trips to areas with high concentrations of the virus may be wondering what to do now that serious health risks associated Zika have been uncovered over the past months. Can you get reimbursed for a cruise because of Zika? Apparently you'll have a few options.
According to research by MarketWatch, cruise lines, like Norwegian Cruise Line, Carnival, and Royal Caribbean, have all offered accommodations of sorts to pregnant passengers looking to change their travel plans in fear of contracting Zika, a virus that has spread throughout the Americas and beyond.
Norwegian Cruise Line released a full statement on its accommodations for its "affected guests" in January, though the cruise line did not state it would reimburse its guests. Back in February, a pregnant women from Chile spoke out against Norwegian's policies. She reported that she and her husband would lose $2,500, under the cruise line's Zika-related accommodations that offered a voucher good for two years instead. "We don't know where we are going to be in two years," the woman said in an interview with WPTV News. "I think it's very unfair." Norwegian's statement on Zika adds that it would allow expectant mothers to reschedule their trip or change their destination:
At this time, the only passengers that are advised not to travel to affected areas are expectant mothers and we are making accommodations for those very few affected guests to reschedule their cruise for a future date or change their itinerary to non-affected destinations.
According to a USA Today report in January, Carnival offered its pregnant passengers, who booked destinations impacted by Zika, to change their itinerary, postpone, or cancel their trip for a cruise credit for the future.
Royal Caribbean offers its guests a cruise credit good for two years, and an opportunity to reschedule the travel itinerary with no penalty, the cruise line's statement reads.
The Centers For Disease Control and Prevention continually updates its site with important travel information related to Zika and its risks. It categorizes countries at risk of Zika by levels. Countries like the Dominican Republic, Ecuador, Costa Rica, Trinidad and Tobago, and Cuba, are listed in its "Level 2" alert group that encourages travelers to "practice enhanced precautions."
Despite the alarming news surrounding Zika and its associated health risks, and birth defects, like, microcephaly, cruise lines have reportedly not experienced a hit on business. "I think most of us hardly saw even a blip from cancellations," Rick Sasso, president and CEO of MSC Cruises USA, said according to Skift. "We really didn't see an impact that was something even measurable."
Zika's most common symptoms include, fever, rash, joint pain, or conjunctivitis, though, according to the CDC, most people infected with the virus won't have symptoms. Read more information on Zika, its health risks, and high risk countries with infections here.