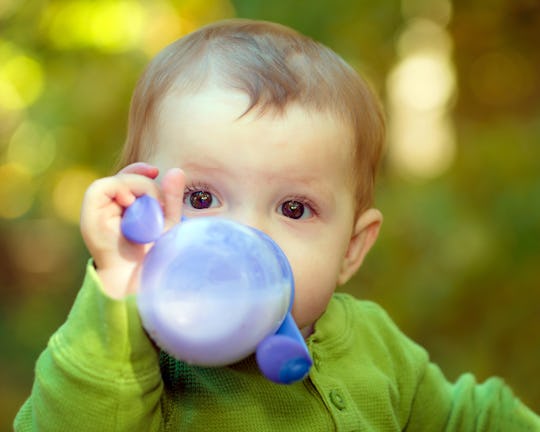 Shutterstock
Can You Put Breast Milk In A Sippy Cup? Here's What You Need To Know
When you're breastfeeding, you may be trying to juggle nursing, bottle feeding, eating solids, and all your baby's other dietary milestones. But can you put breast milk in a sippy cup and skip a bottle altogether? Many moms wonder if this would make weaning easier. Plus, sometimes when you're in a pinch hand expressing into a sippy cup is just all you can do.
Randy Thornton, M.D., pediatrician at Jacksonville Pediatrics and Wolfson Children's Hospital of Jacksonville, tells Romper that sippy cups are traditionally given to kids around one year of age. That said, he doesn't see a medical reason why babies couldn't try them sooner.
"If you're feeding them breast milk in the first year, out of convenience it's usually out of a bottle, because sometimes it's hard for babies to grip the sippy cup and it spills," Dr. Thornton says. "Over one year old is when most kids can graduate to a sippy cup, but there's no reason or danger I've seen in trying, other than it sometimes comes out too quickly and they may sputter. My only concern would be from a neatness standpoint."
"Babies are usually able to drink breast milk from a sippy cup around 3 months of age," Kristin Gourley, IBCLC, tells Romper. "Sometimes it's a good choice to try if baby won't take a bottle. Generally, a baby younger than 6 months we say to give a bottle if you're away, but some babies between 3 and 6 months old are OK with a sippy cup. If your baby has any feeding issues, though, it may not be appropriate."
Gourley says there are a few reasons parents may try offering little ones a sippy cup earlier than the usual one-year mark, and all of them are totally valid depending on what's right for their child.
"Parents may want to skip bottles if their baby is a little older and hasn't, or won't, take a bottle, and they need baby to drink some way. Or, if they don't want to deal with taking the bottle away later — most pediatricians recommend trying to get off the bottle around 12 to 15 months if possible. It's always a good idea to offer a sippy cup or straw when baby starts solid food around 6 months," she adds.
In the sippy cup versus straw department, is one more appropriate than the other? Gourley votes straw when possible.
"A straw cup is actually better for oral development, so I'd recommend a straw cup instead of a sippy cup for any age, if possible. Munchkin makes a great weighted straw sippy so it can be held at an angle even though it's a straw."
When it comes to transitioning a baby from the breast or the bottle to a sippy cup, modeling how to use one is a good place to start.
"Showing baby by example how it works, and getting the milk right about to come out and then having them try," says Gourley. "You can use a honey bear-style straw sippy cup that allows you to squeeze and then the liquid comes out the straw so that baby can learn that's what can happen. It triggers sucking when there's liquid and helps baby learn what to do with the straw."
When you head to the store or onto your favorite online retailer to purchase some new cups for your kiddo, here's what comes highly recommended for breastfed babies looking to transition: