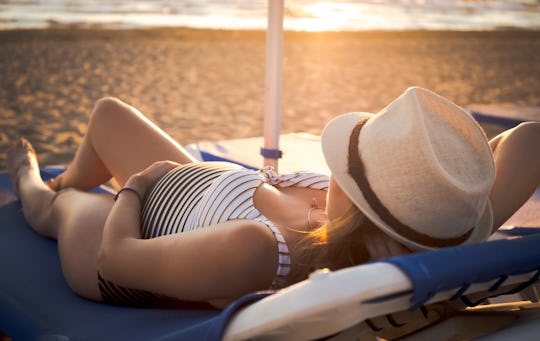 elgreko/Fotolia
Here's Why Every Single Mom-To-Be Deserves Her Own Babymoon
While I love the idea of pampering yourself before baby arrives, the babymoon can seem like an opportunity geared entirely towards couples. Yet plenty of women have babies on their own, and don't have — or need — a partner to jet around the world with. So, can you take a babymoon as a single mom?
"A single mom can absolutely go on a babymoon," writes Nicole Wineland-Thomson, co-owner (along with her sister and mom) of AdventureWomen, in an email to Romper. For Wineland-Thomson, putting yourself in unfamiliar situations can lead to valuable insights for both new — and experienced — single parents.
But where to go? If you're traveling solo, Wineland-Thomson explains that the choice depends a lot on your personality. She herself loves spending time in Southeast Asia for the food, the landscape, and the fabulous massages. But if that's not your style — or not in your budget — anything can be tailored into a babymoon. Itching to try kayaking? Always wanted to stay at the Four Seasons or attempt a silent meditation retreat? Now's the time, mama. Wineland-Thomson explains:
"No woman should ever feel held back because they're an expecting or single mom. Taking time for yourself gives you the opportunity to be a better mother and give more of yourself."
Sarah Kowalski from ESME's Solo Mom By Choice Resource Guide and author of the upcoming memoir, Motherhood Reimagined, never made it on a babymoon during her pregnancy. She was too overwhelmed. But she tells Romper that if she were to do it over, she'd take that vacation no matter what. "Take the time while you're pregnant, because having moments when you don't have a child in hand are next to impossible to find as a single mom."
And you don't have to jet off to the Caribbean, either. In fact, Kowalski recommends finding someplace close by, somewhere you've always longed to go — and preferably, a place with great food (you are pregnant, after all). A staycation or short weekend away can provide a crucial opportunity to think about new motherhood. Bring a journal, and consider writing a letter to your child, expressing your hopes and dreams.
"In a sense, my memoir is that," muses Kowalski. "Memorializing how badly I wanted to have a child. That's why I did it alone. My book is about explaining how I wanted to show up as a mother, and what my intentions were."
Kowalski also suggests using your babymoon to seek out a community of other single moms. ESME's online community, as well as your friendly neighborhood Facebook or Meetup, are great places to connect. You might even find yourself planning a trip with new friends and a solid support structure can make all the difference later on.
If you're a single mother with a kid — or kids — already, you can still take that vacation. Plan a trip that helps them feel secure in their special connection with you, and set aside time to discuss the future. Don't be fooled by celebrity Instagrams. You can make the babymoon work for you and your family.
Bottom line: babymoons aren't a real thing — travel marketers and selfie culture pretty much invented them. But that doesn't mean you can't take advantage of the trend to learn and grow as a person — and as a parent, too. Pregnancy is the perfect time to tackle the adventure of a lifetime with old or new friends; or, if it's more your speed, to settle in for a quiet weekend.
Whatever you do, don't forget your journal or your camera, and "relish in moments of idleness," as Kowalski wisely suggests. For her, single motherhood is amazing, empowering, and "a powerful way to parent." It's also busy, challenging, and in constant motion. In fact, single moms may need a babymoon more than anyone.
Check out Romper's new video series, Romper's Doula Diaries:
Check out the entire Romper's Doula Diaries series and other videos on Facebook and the Bustle app across Apple TV, Roku, and Amazon Fire TV.