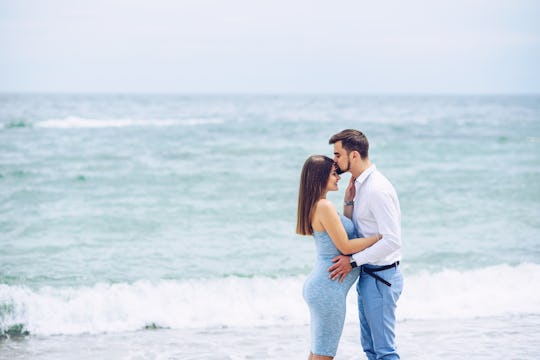 gorynvd/Fotolia
Everything You Need To Know About Planning A Babymoon, According To Experts
by Kelly Mullen-McWilliams
While I love the idea of the babymoon, it also never completely made sense to me. Traveling to tropical climates when you're gravid and sweating sounds more difficult than romantic. And anyway, my honeymoon just cost an arm and a leg. But let's get down to the nuts and bolts of the babymoon — so you can decide if it's for you. Let's tackle timing: when should you go on a babymoon? You don't exactly want to go when you're so swollen you can't enjoy it, but what's the point of going when you're puking? Travel experts weigh in on the celebrity trend.
If your pregnancy is anything like mine, first trimester euphoria quickly turns to nausea and a powerful desire to nap. I, for one, was not exactly in the mood for jet setting then. But the first trimester eventually gives way to a crowd favorite: with any luck, your morning sickness is in the rearview mirror by the time you reach the energetic second trimester.
Amber Stanfield, a lifestyle blogger based in North Carolina, recommends taking your babymoon in that sweet spot, and tells Romper that she scheduled hers for month five — when your pregnancy is firmly established, but you're also "not so far along. . . that you'd be swollen or uncomfortable." She favors low key waterfront vacations, and for her, the heart of the babymoon is the opportunity to re-connect with your partner before chaos strikes. (Only kidding — you'll do just fine.)
Babymoons look amazing on Instagram, and according to E!, all the celebrities are taking them. But how many regular Americans are actually taking the photogenic vacation endlessly recommended by travel magazines?
According to Daniel Levine, a global trends expert with years of experience studying the travel industry, the answer is — not that many. "If the babymoon's a trend, it's the slowest growing trend I've ever seen," he explains in an interview with Romper. In fact, he believes the whole hullabaloo is "really a construct of travel industry marketers" — who obviously has a huge stake in getting Americans to take more vacations.
"The babymoon sort of gained traction with Kim Kardashian," Levine explains. (Kimye took their babymoon in Paris and Rio in 2013, reported Us Weekly.) "I can't tell you for sure that she was paid to take her babymoon and promote it, but I don't know of anything she's done where she hasn't been paid." He goes on to note that while babymoons are fun to read about, the catchy name might actually be better than the reality.
As Levine explains, a babymoon just isn't as much fun as a honeymoon. Why? "Because if a woman is pregnant, it's not a carefree vacation." That means no staying up all night, no partying until dawn, swollen ankles on airplanes, and approximately nine million trips to the bathroom. And in the current moment, pregnancy-safe travel destinations are limited. The Zika virus rules out a host of sunny babymoon climes, and of course, the Caribbean, the Virgin Islands, and Florida have all dealt with the aftermath of devastating storms.
"There are better times to go on vacation than when you're stressed physically, emotionally, and financially," according to Levine.
More important than Instagram photographs — or selfies in front of a Hawaii sunset — is the chance to connect with your spouse, to discuss your hopes and fears on the eve of parenthood. So Levine suggests a few other alternatives to the glossy, expensive babymoon you read about so often:
"There's a huge trend in staycations. Maybe that's a better way to spend the babymoon. It's a great time for couples to talk about the future and their expectations, and taking that staycation is a great way to do that without the stress on the body — and perhaps the stress on the mind, of Zika and other things that happen outside your comfort zone."
Levine also recommends visiting a flotation tank during pregnancy, which gives you all the weightlessness of a dip in the Pacific (actually, more like the weightlessness of the Dead Sea), and allows you quiet time to tune into your body and your baby. "Stay in a hotel and go to the spa . . . be a tourist in your own town. Doing that, you'll have a better experience and save a lot of money than if you went [someplace exotic] on a babymoon."
The trends expert calls it the stay-be-moon, and I admit, the quadruple portmanteau (of staycation and babymoon) sounds a lot more viable to me, physically and financially, than what basically amounts to a non-alcoholic, varicose-vein ridden version of your honeymoon. Plus, you'll have more time to plan the all-important baby shower.
Like a celebrity makeup line, the babymoon may not be all it's cracked up to be — but that doesn't mean you can't set aside some time for your partner and yourself to celebrate your future. If someone in your family has a summer cabin nearby, ask to spend the weekend (check that it's not haunted first). Take a bus tour of your city or eat at the best restaurant in town. If you do decide to travel, or follow in the footsteps of the rich and the famous, more power to you. Just manage your expectations, and follow the American Pregnancy Association's guidelines for pregnancy-safe travel. One thing I can say for sure: the best time to jet around the world is during your second trimester. Because before and after, my guess is that you'd rather take a nap than visit Nice.
Check out Romper's new video series, Romper's Doula Diaries:
Check out the entire Romper's Doula Diaries series and other videos on Facebook and the Bustle app across Apple TV, Roku, and Amazon Fire TV.