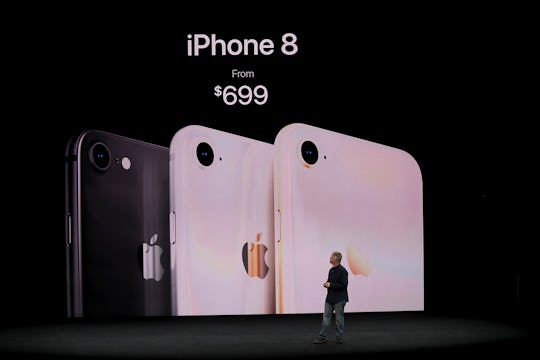 Justin Sullivan/Getty Images News/Getty Images
Can You Use An Old iPhone Charger For The iPhone 8?
Tuesday was basically Christmas come early for Apple die-hards; not only were three new iPhones rolled out at the Apple iPhone Live Event in California, but the promise of a seriously amazing wireless charger was teased for 2018. Which is great, because nobody likes wires anymore and almost nobody likes having to fiddle around with chargers. It's a win-win. While everyone has to wait for Apple to make good on its promise of the AirPower charging mat, customers will have to figure out how to charge their phones in the meantime. If you can use an old iPhone charger for the iPhone 8, that would be great. Just, you know, to tide you over until the real deal comes along.
The iPhone 8 (as well as the iPhone 8 Plus and iPhone X, both of which were introduced during Tuesday's Apple event at the Steve Jobs Center) will be made entirely of durable glass, according to the Apple website:
iPhone 8 introduces an all‑new glass design. The world's most popular camera, now even better. The smartest, most powerful chip ever in a smartphone. Wireless charging that's truly effortless. And augmented reality experiences never before possible. iPhone 8.
This new glass iPhone 8 will be available for pre-order on Sept. 15 and will shelves on Sept. 22.
One of the serious selling features of the iPhone 8 is the fact that it is equipped with wireless charging capabilities, which will be great once the AirPower wireless charging mat is made available in 2018. The AirPower charging mat will allow users to charge their Apple watches, iPhones, and Air Pods (in their new cases) simultaneously. It will even support communication between devices to further power saving functions.
But what's a girl to do until the AirPower charging mat is released?
So bad news first; it doesn't look like you're going to be able to use your old iPhone charger for any of the new iPhones. The sleek, all-glass design leaves no room for such gaudy additions as charging ports. But here's the good news; your iPhone 8 will be equipped internally to support wireless charging. According to the Apple website:
We've always intended iPhone to be a truly wireless device, free from charging cables and headphone cords. With a glass back and an embedded wireless charging system, iPhone 8 is designed for a wireless future.
Beyond the wireless charging, the iPhone 8 should offer some seriously cool updates for users. The redesigned stereo speakers are a full 25 percent louder and offer more bass for a richer, textured sound. This new phone will have 2 GB of RAM, TrueTone touch technology, and will be able to shoot video in 4-K.
Also, despite the delicate look of the glass iPhone 8, customers can expect it to be surprisingly resilient, according to the website, it can "resist water, splashes, and dust:"
iPhone 8 is precision-engineered at the microscopic level to protect against water, splashes, and dust.
Naturally, an updated new version of the iPhone means higher costs; the iPhone 8, which boasts a 4.7 inch-screen and comes in three finishes (space grey, silver, and gold) will retail starting at $699. The iPhone 8 Plus will retail starting at $799 (and include a bigger screen at 5.5 inches), while the granddaddy iPhone X will sell for a whopping $999 when it becomes available in November. Expensive, I know, but some companies like T-Mobile are already offering trade-in credits of up to $300 to make the cost a little more palatable.
You could also sell your old iPhone wall charger if you're feeling so inclined — it doesn't look as though you'll need it.
Check out Romper's new video series, Romper's Doula Diaries: