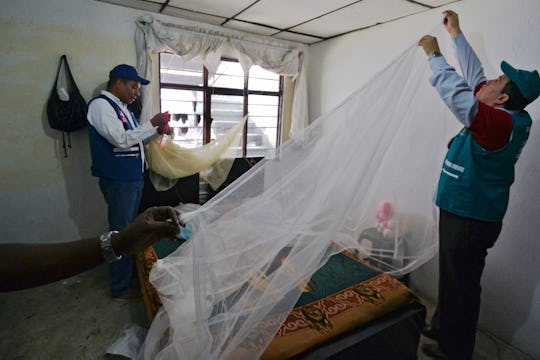 LUIS ROBAYO/AFP/Getty Images
Can Zika Cause Brain Damage In Toddlers? Parents Should Know All Possible Risks
The Zika virus continues to be an important and necessary public health discussion as health officials learn more about its escalating numbers, its potential to continue spreading, and the severe health risks associated with the virus that's transmitted by mosquito bites, among other ways. Officials have researched and conducted studies on its links to neurological disorders, microcephaly, brain damage, and various birth defects. Researchers have found that pregnant women can indeed pass the virus on to their unborn babies during pregnancy, so can Zika cause brain damage in toddlers? There have been reports of severe neurological effects in adults, so toddlers might be at risk for something similar.
Since news spread of the rapid Zika outbreak in Brazil and other countries in South America last year, researchers and public health officials have worked to uncover a link between Zika and microcephaly, a condition where a baby is born with a smaller head than typical, with possible links to severe birth defects and issues in brain development. This research was sparked by a very noticeable spike in microcephaly cases during the outbreak of Zika. But aside from health risks transmitted in utero, officials have also noted its possible links to neurological disorders in adults, like Guillain-Barré syndrome (GBS), a rare disorder that causes damage to one's nerve cells and could lead to weakness in the limbs or even paralysis. Studies and research on these neurological links, including acute myelitis and meningoencephalitis, have consisted of teenage to adult-aged subjects, but, the Centers for Disease Control still recommends that toddlers and children take precaution (though no mention of toddlers having increased health risks.):
An infant or child who has traveled to or resided in an area with ongoing transmission of Zika virus is at risk for Zika virus infection
Months ago, the Centers for Disease Control (CDC) and other public health organizations have warned pregnant women against traveling to areas with high Zika detection, in an effort to prevent a transmission by infected mosquitoes. But the prevention tips didn't stop there. Health officials have since found that Zika can be sexually transmitted by male partners, shedding more light on the severity of the virus. Now, with more knowledge on Zika and its spread through the Americas, it continues to be important to remain informed on health risks that the virus has been confirmed to cause.
Last month, U.S. health officials reported that there was "sufficient evidence" to confirm a casual relationship between the Zika virus and microcephaly and other "severe brain abnormalities."
"There's still a lot that we don't know," Dr. Tom Frieden, the chief of the CDC told NPR. "But there is no longer any doubt that Zika causes microcephaly." He continued, "And it is because this was so unprecedented that we have until now waited to say that we have concluded that there is a causal link." And recent news shows the virus has been detected in new areas, like the U.S. and Cape Verde.
On Friday, according to a Reuters report, the CDC reported that it's monitoring 279 pregnant women in the U.S. – 157 in the U.S. and 122 in U.S. territories (primarily Puerto Rico), that have tested positive for the Zika virus. Though the virus is reporting to have "reached" the U.S., the CDC reported that the Zika cases in the U.S., so far, have been due to people returning home after visiting an area where Zika is prevalent.
The World Health Organization recently reported that the strain of the Zika virus linked to microcephaly and other birth defects has been confirmed in in Cape Verde, a country off the coast of western Africa, according to Reuters.
"The findings are of concern because it is further proof that the outbreak is spreading beyond South America and is on the doorstep of Africa," Matshidiso Moeti, WHO's Africa director said, according to Reuters. WHO has launched a global strategic plan in response to the international Zika outbreak. With an unfortunate scientific consensus on its associated health risks, it's a cause for concern for everyone affected around the world.