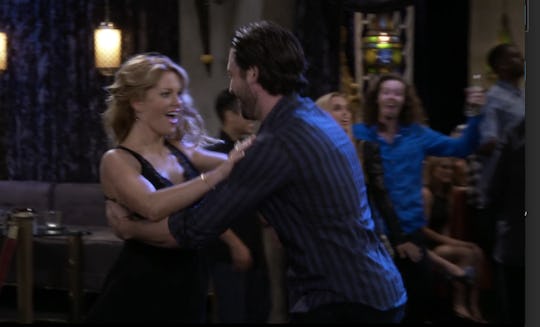 Netflix
Candace Cameron Bure's 'Fuller House' References To 'Dancing With The Stars' Are Pretty Perfect
There are lots of little Easter eggs peppered into Fuller House, and Candace Cameron Bure's reference to Dancing With The Stars are totally on point. They come during "Funner House," an episode that centers around Kimmy and Stephanie taking D.J. out to Club Euphoria to have a little fun without kids in tow. In a perfect ABC tie-in, the girls ended up meeting Val and Maksim Chmerkovskiy, the dance pros from Dancing With the Stars and dancing the night away.
After showing off her moves with Maksim, he asks D.J. where she learned all of her moves. She tells him that she watches Dancing With The Stars every week.
"That's impossible," he exclaims, "It's seasonal and rotates with The Bachelorette." It's pretty cute. Of course, it's entirely possible that D.J. has picked up some technique from the competition show, but in reality, Candace Cameron Bure was actually on the show. She was paired with Mark Ballas in 2014, and the two made it all the way to the finale. So it makes total sense that she knows her way around the dance floor. Having the brothers at the club to be the girls' dancing partners and joking about another current ABC show (remember Full House originally ran on the network) is yet another too good to be true kind of pop culture references Fuller House runs on. And it totally works. Fans loved it.
Dancing With The Stars isn't the only ABC show that makes an appearance in Fuller House. In later episodes, they go for The Bachelorette. As D.J.'s love life gets more complicated, they stage a spoof of the reality show to help her choose between two men. They stage a rose ceremony, with D.J. actually holding a "final rose," as Steve and Matt get to make little speeches about how they've enjoyed their time together and why she should choose them. It's pretty hysterical. But the writers take it one step farther and reach out to fans of The Bachelorette, too.
When Stephanie calls Matt to lure him to the wedding, she hangs up just after yelping "Team Matt!"into his voicemail. That's a nod to Bachelor Nation, which is known for turning contestants into hashtags to show who they're rooting for.
Spotting references and being in on the joke is one of the things that makes Fuller House totally campy and also totally fun to watch. Is it a little cheesy? Perhaps. But it's just the kind of fix a television addict needs to keep them going between episodes.