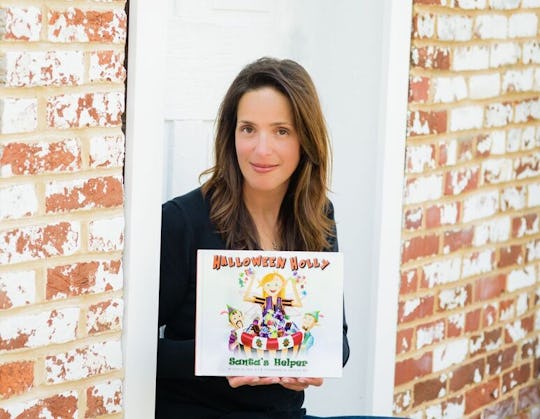 Courtesy of Cara Via
This Mom Found A Way To Avoid The Halloween Sugar Crash, & It's *Brilliant*
Every mom knows it's coming, and yet most don't see any way around it. The crash. The sugar coma. The inevitable weeks on end of hearing, "mom, can I have more candy?" after a single night of trick-or-treating. You can try to ration it — two pieces per day, ok? — or maybe you and your partner pull a Jimmy Kimmel on your kid, only you really do actually eat all their candy in an effort to cut down their sugar intake. It seems a little bit hopeless — because it is — but one innovative mom figured out how to cut the sugar crash after Halloween, and her method is one that every family needs to know about.
Cara Via spent the majority of her adult life working in finance. She wasn't a writer, or entrepreneur, simply a mom trying to do the best for her family. As a self-admitted Halloween enthusiast, Via loved everything about the spookiest holiday of the year except the sugar her kids inevitably begged for, on repeat, for months after Halloween was over.
I heard 'you're a nobody' more often than I care to admit, and heard 'no' far more than I heard 'yes.'
Her idea wasn't a revolutionary one; it was surprisingly simple and innocent. Via, who is one of Romper's 2017 Made It Award honorees, tells Romper that one morning after Halloween, as her kids were about to begin their normal candy request, she felt a wave of inspiration hit her and the words just flowed. What resulted was the story of Halloween Holly, a unique elf who collects leftover Halloween candy and brings it back to the North Pole to help energize Santa's elves as they prepare toys for Christmas. Her kids could choose 10 pieces to keep for themselves, and the rest were to be placed in a special bucket that Halloween Holly would collect that night.
She recounts that after she finished telling her kids this, they simply smiled, picked out 10 of their favorite pieces to keep, and happily handed the rest over for Halloween Holly to collect. No tears, no meltdowns, just generosity and understanding.
Genius, isn't it?
Like most great ideas, the story of Halloween Holly spread like wildfire and Via's children told their friends who told their friends, who told their friends and so on. Eventually, Via decided (with the encouragement of a friend) that her idea was book-worthy and might just help a few families avoid consuming needless amounts of sugar each Halloween.
Via wrote her story out, decided to self-publish, and nearly two years later, her book is sold all over the country, inspiring kids to eat less candy and leaving parents at ease. Via was able to quit her job in finance and pursue her book full time, appearing on NBC, Huff Post, the ABC7- Good Morning Washington, and more.
Via notes that her journey hasn't always been smooth. "I heard 'you're a nobody' more often than I care to admit, and heard 'no' far more than I heard 'yes'," she says. Trying to have a book published is "a bit of a four letter word." And yet, she stuck with it, because she believed that Halloween Holly could help kids everywhere lead healthier lifestyles not only on Halloween, but for the rest of the year as well.
While Via is keeping busy these days promoting her second edition of Halloween Holly, she dreams of one day starting an organization to help women get their ideas off the ground. All it takes is one connection. "Let's celebrate people and their accomplishments," she says, in a world that is so quick to focus on the negative.
Although Halloween Holly is a fictitious character, she has opened the door for Cara Via, and countless other parents, to not only cut down on needless sugar on Halloween, but implement healthier choices into their everyday lives.
To get to know Via better, check out her Romper Screenshot below:
Watch Romper's new video series, Romper's Doula Diaries:
Check out the entire Romper's Doula Diaries series and other videos on Facebook and the Bustle app across Apple TV, Roku, and Amazon Fire TV.