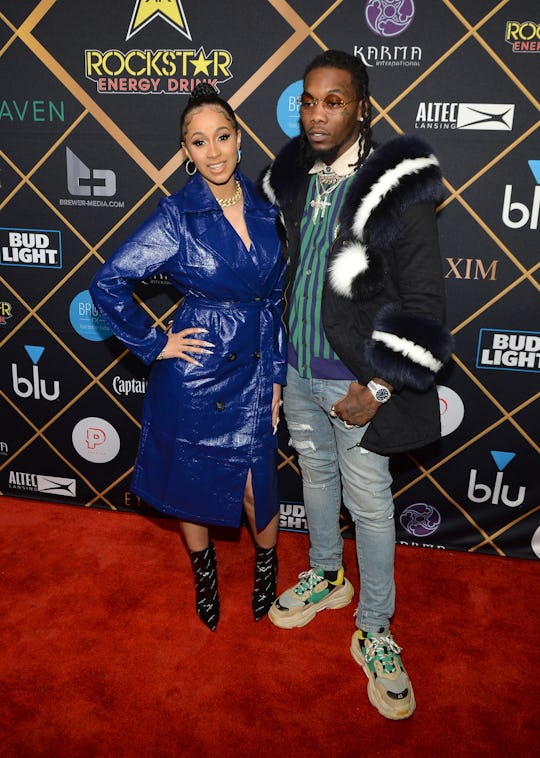 Daniel Boczarski/Getty Images Entertainment/Getty Images
Cardi B Got Really Honest About Her Relationship Insecurities, & Her Honesty Is So Refreshing
During her performance on Saturday Night Live this weekend, Cardi B finally confirmed her pregnancy after months of rumors. The rapper is expecting her first child with her fiancé Offset, of the hip hop group Migos, and the couple seems so excited. And in an interview published by GQ Monday morning, Cardi opened up about her relationship with Offset, detailing the insecurities and trust issues she has experienced in their relationship.
Cardi, 25, and Offset, 26 met in January 2017 — and she was hesitant to date him at first. "Around Super Bowl time I told my publicist to tell him, because I was very shy, 'Listen, if we gonna go on a public date together, you cannot make me look like a dumb-a*s after this,'" she told GQ. "I never wanted to date a rapper because I would hate to look crazy in public."
She further explained what she meant by that — she had a fear that he would cheat on her. "Like you on a date with me but you f*cking other bitches. And he was like, 'No, I really like her. I'm really feeling her,'" she recalled, adding that things started to get really serious shortly after that. He then proposed to her onstage at a concert in October 2017.
And even though the couple got engaged after less than a year of knowing each other, it was hard for Cardi to fully trust Offset for a while. She told GQ:
For a long time ... we was in love with each other but we didn't really trust in each other. It was like a competition of who's gonna hit each other up first. I don't want to hit him up first; he will hit me up first. People used to put things in my head: 'He gonna leave you. He be f*cking with mad bitches.' People used to put things in his head: 'Cardi, she's a dog. Don't trust her.' We never really trusted each other because I always feel like he could get any girl he wants — what makes me think he's gonna want me? I think he felt the same way.
In fact, Cardi told GQ that before they got engaged, their relationship was filled with games, and they were both afraid of losing each other.
It was just too much playing games. He would look for me; sometimes he would take a jet to me. And it was just like, 'Let's stop playing. We really love each other. I'm scared to lose you, and you scared to lose me.'
Her trust issues with Offset are not unfounded. Rumors that Offset slept with other women during his relationship with Cardi B have swirled on several occasions, and as reported by People, Cardi acknowledged the rumors earlier this year. According to the outlet, Cardi said:
No, it's not right for a [n***a] to cheat…But what you want me to do?Go f*ck me another n***a? Start all over again and get cheated on again? This sh*t happens to everyone and I be too, you too…People handle they relationship different too.
She also opened up about Offset's alleged infidelity in a Cosmopolitan cover story earlier this year, saying:
It's like everybody is coming down my neck like, 'Why are you not leaving him? You have low self-esteem.' I don't have low self-esteem … I know I look good. I know I'm rich, I know I'm talented. I know I could get any man I want — any basketball player, football player. But I want to work out my shit with my man, and I don't got to explain why.
Cardi B and Offset have been through a lot in their relationship, and it's clear that their love for each other is prevailing above everything else. They both seem so excited about starting a family together, and it will be so exciting (and undoubtedly hilarious, knowing Cardi's social media personality) to read her pregnancy updates.