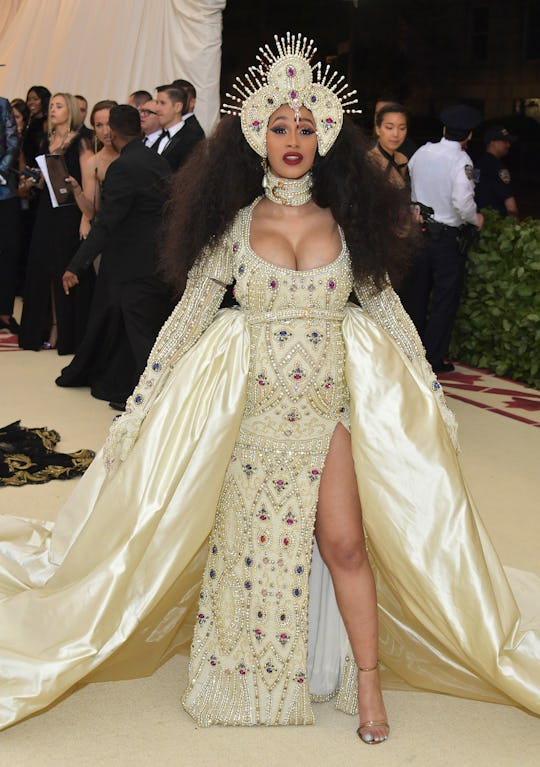 Neilson Barnard/Getty Images Entertainment/Getty Images
Cardi B May Have Accidentally Confirmed The Sex Of Her Baby, & She's So Excited
She's dropped plenty of hints over the past few months — but now, there's no denying that Cardi B has confirmed the sex of her baby. At the Met Gala Monday evening, the pregnant rapper referred to her fetus as a "she" multiple times in an article by the New York Times, implying that she's having a girl.
"Shorty weighs three and a half pounds," Cardi reportedly said in her suite at the Carlyle Hotel while getting ready for the gala, according to the New York Times. "She do ... She do weigh three and a half pounds. That's pretty good for seven months, right?" she added. "Because I was born five pounds."
Later that evening, on the Met Gala's red carpet (rather, beige-carpeted staircase), Cardi referred to her upcoming bundle of joy as a "she" once again. "Oh, she wants to fight me!" Cardi joked to ET Online when asked if her baby had been kicking from beneath her intricate Jeremy Scott-designed Moschino dress that night, adding that the ensemble weighs "about 35 pounds plus baby." Scott brought Cardi as his date that evening, even wearing a matching beaded outfit of his own creation. (The outfit was originally designed for Cardi's fiancé Offset, but he wound up attending as a guest of Versace instead, as reported by the New York Times.)
Monday was not the first time Cardi's baby was referred to as a "she." Cardi publicly announced her pregnancy in early April during her performance on Saturday Night Live. Shortly after her announcement, her sister Hennessy Carolina took to Instagram to publicly congratulate her older sister, as noted by People. In the original caption of her congratulatory message, Carolina implied that the baby would be a "she" and a "daughter," according to a screenshot captured and shared by The Shade Room. She reportedly wrote:
I'm going to be able to hold baby you and give her all the kisses and hugs! Your pregnancy is mines we pregnant can't believe we're having a baby! I'm passing my daughter crown down hehehehe.
However, Carolina has since edited the caption of her post, removing all said references. That portion of her message now reads:
I'm going to be able to hold ur baby and give the baby all the kisses and hugs! your pregnancy is mines we pregnant can't believe we're having a baby! hehehehe.
All that being said, Cardi has still not explicitly said that she is pregnant with a girl, and her "she" drops could be nothing more than wishful thinking. Perhaps Cardi has yet to find out the sex of her baby, but she and and her family have defaulted to those pronouns instead of calling the baby an "it." However, the couple has already chosen their baby's name, meaning either they know the baby's sex, or it's a name that could work for a baby of any gender. "My dude named the baby," Cardi said on The Ellen DeGeneres Show last month, as reported by People. "I really like the name."
No matter how her baby comes out, it's clear that both Cardi and Offset are so excited.
"I feel very happy, I feel like I want to work," Cardi said, when ET Online asked her how she was feeling in her pregnancy at the Met Gala. "I feel very energetic to keep on going, like powerful, like a woman, like a real woman."
Offset has also shared his excitement for his upcoming child, taking to social media just after Cardi's Saturday Night Live performance. "Thank you for all of your support. We feel so blessed," Offset wrote on Instagram, according to Billboard. "Cardi and I look forward to our next chapter together," he added on Twitter.
Cardi B is reportedly due in July, so luckily fans will likely know more about her baby soon!