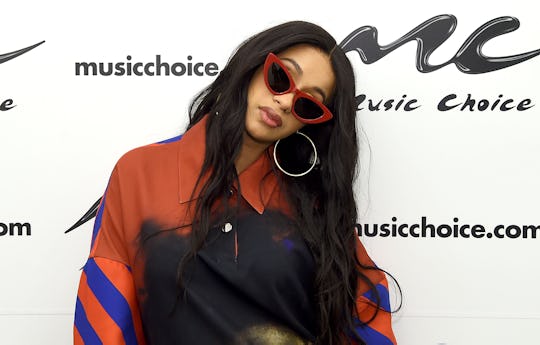 Jamie McCarthy/Getty Images Entertainment/Getty Images
Cardi B Might Not Share Photos Of Her Baby On Social Media For A Pretty Sad Reason
All celebrities face the difficult decision of whether or not to share photos of their children on social media. While some famous parents choose to incorporate their kids into their brand, others prefer to keep their children's lives private. Of course, there's no right or wrong side when it comes to this tough decision — each person approaches parenting with a unique perspective, right? And one celebrity who knows the struggle of this choice all too well is Cardi B, who is just a few weeks away from giving birth to her first daughter. As it turns out, there's a chance Cardi B might not share photos of her baby on social media. Although this might seem surprising to some fans given Cardi B's outgoing nature, the reasons for her hesitation make a lot of sense. Sadly, Cardi B is afraid of people harassing her daughter due to her own personal experiences with online bullying, and her admission highlights society's ongoing problem with mom-shaming.
Cardi B is one of those performers who oozes confidence. Want proof? Look no further than Cardi B twerking during her performance at Coachella in April. Cardi B — who was seven months pregnant at the time — looked like she didn't have a care in the world as she repeatedly popped her booty into the air for fans. Although Cardi B received a lot of flak for the performance, she didn't pay any attention to the naysayers — proof that she's confident in her own skin. But just because a person is confident, it doesn't mean they're immune to online harassment. Case in point: Just a month or so after Cardi B's epic Coachella performance, she deleted her Instagram account following a hurtful fight with rapper Azealia Banks. In one particularly low point of the feud, Banks referred to Cardi B as an "illiterate, untalented rat," according to Page Six. Banks did not immediately respond to Romper's request for comment. The remark must have affected Cardi B on a deep level because she deleted her Instagram page just one day after the initial comment.
Unfortunately, that wasn't the first time Cardi B took a break from social media due to negativity. In March, Cardi B issued an important message to her Twitter followers following a brief break from the platform. "Reason why i took a break from twitter is cause people are so negative and disgusting here," Cardi B penned, according to Twitter. "I had to log off, to much negativity is not good for the soul. It be people that don't fuck with me to be the first ones under my tweets LIKE WHO SEND YOU?"
Given Cardi B's upsetting experiences on social media, it's no surprise she's unsure about whether or not to post photos of her daughter on the 'gram. Cardi B elaborated on her fears concerning this issue in an interview with Rolling Stone about her upcoming delivery. "I'm iffy about it. My feelings get hurt when people online talking about family members," Cardi B explained to the outlet. "I think I'll kill somebody if somebody talking about my child life that."
Needless to say, it's completely understandable Cardi B wants to protect her child from criticism. Famous or not, every parent out there wants the best for their kid, right?
What's most important to talk about, however, is why online harassment has become the norm. Many parents experience mom-shaming on a daily basis, and it's not uncommon for people to critique children's looks or actions (remember when commenters sexualized Jessica Simpson's 6-year-old daughter because of this photo?). If you go to the comments section of any Instagram post, there's a good chance you'll find a negative comment. One has to wonder why people are so comfortable with attacking others, especially when it comes to high-profile people and their children.
Hopefully, Cardi B's honesty about this subject will draw awareness to the ongoing problem of online harassment. No person should have to worry about a stranger attacking their child for sport, and each parent deserves to raise their child in a safe environment.