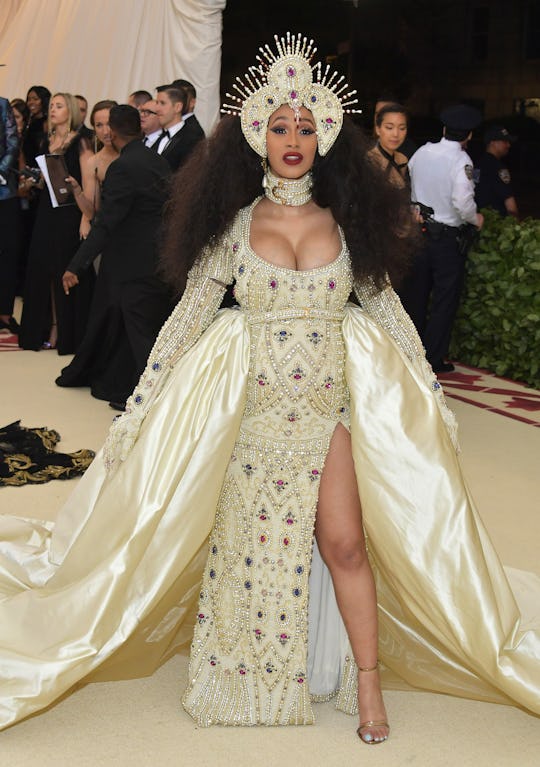 Neilson Barnard/Getty Images Entertainment/Getty Images
Cardi B's Pregnancy Quotes So Far Are Hilarious & So Empowering
Cardi B has had quite the year. Almost one year ago, on June 16, 2017, her song "Bodak Yellow" dropped, launching her into mainstream fame. Since then, she has released her first album, become engaged to rapper Offset, and announced that she is pregnant with their first child. And Cardi B's pregnancy quotes so far show that she is going to have yet another awesome year of music, family, and being hilarious on social media.
Rumors of a Cardi pregnancy were first reported in February by TMZ, and she denied them on several occasions. For example, in early February, someone commented "Is there maybe a Kylie Jenner secret that we need to know about lol Just asking" on one of Cardi's Instagram posts, The Cut reported. The commenter was referring to the fact that Jenner kept her pregnancy concealed until she gave birth that very week. Cardi's response? "No bitch I'm just getting fat," she replied. "Let me fat in peace."
But then, the rapper announced she actually was expecting during a performance on Saturday Night Live back in April. While performing her song "Be Careful," the camera zoomed out to reveal Cardi's visible bump. In an Instagram video taken backstage after Cardi concluded her performance, she excitedly exclaimed "I'm finally free!"
And since that moment, Cardi has been very open about her pregnancy. She has shared tidbits about her time expecting everywhere, from red carpets to radio shows to Twitter. Here are some of her best quotes about pregnancy thus far.
1. She Is Really Feeling Her Emotions
"I wanna cry but I got no reason to cry 😪like I'm emotional for no reason. Like wtttffff 😩😩😩😩😩😩," Cardi tweeted in June. "I'm having a good day I don't get it 😩😩Leave me alone hormones 😤😤." It's totally normal to experience emotional side effects during pregnancy — and Cardi's tactic of tweeting at her hormones to leave her alone is pretty top notch.
2. She Is Officially Sick Of The Critics
Cardi doesn't have time for her haters. In an interview with the radio station Hot 97, Cardi said, according to PopSugar:
I hate the certain things people say ... like 'I feel bad for her. Why is she doing that in the height of her career?' and it's just like why can't I have both? Why do I have to choose a baby or a career? Why do I have to be in my mid-30s to have a baby? What am I doing wrong?"
3. Here's Why She Kept Her Pregnancy Under Wraps At First
Shortly after announcing her pregnancy on SNL, Cardi took to Instagram to clap back at those criticizing her, reported Billboard. In the since-deleted Instagram story, Cardi reportedly wrote:
This is why I did not wanted to say nothing ... People be so thirsty to scrutinize and try to destroy something that it suppose to be a blessing.
4. Becoming A Mom Will Not Hinder Her Career
Cardi clearly feeds off those who doubt her. "I started winning when the whole world was doubting on me! Think imma lose with my little baby counting on me?" she tweeted in April. Hmm, sounds like the start of a new song to me.
5. She May Have Accidentally Revealed Her Baby's Sex
While getting ready for the Met Gala in her suite at the Carlyle Hotel, Cardi B reportedly referred to her unborn baby as a "she," The New York Times reported. The rapper said:
Shorty weighs three and a half pounds. She do ... She do weigh three and a half pounds. That's pretty good for seven months, right? Because I was born five pounds."
6. Cardi's Baby Looooves Kicking Mama
Later on, at the Met Gala, an interviewer asked Cardi if her baby had been kicking her. "Oh, she wants to fight me!" Cardi joked to ET Online at the event.
7. She Broadcasted A "Sad" Piece Of News To The World
You know that moment when your bump becomes so big, you can't see your vagina anymore? Cardi B does. "SAD NEWS: I can't see my vagina anymore," she tweeted in early June. "You know how hard it is to shave my vagina? I literally have to put one leg up in the sink while i look in the mirror facefront. I hate all of yaaa."
8. She Declared She Is Done With Uncomfortable Clothes
Despite rocking a 35-pound gown at the Met Gala last month (according to ET Online), Cardi is done with discomfort. Earlier this month, she wrote on social media, according to Page Six:
I am at this point in life where I do not want to wear no heels, no sneakers or anything that is closed toes … I don't want to wear jeans or sweats, I don't want to wear a bra. I just want to be bear [sic] footed all day ... I just want to wear these loose ass dresses. I don't want to wear a wig … If you want to have a conversation with me just talk to me about food.
Cardi is clearly experiencing her pregnancy on her own terms, and she couldn't care less what her critics think. It will be awesome to watch her continue to grow as both a mother and a musician over the next year.