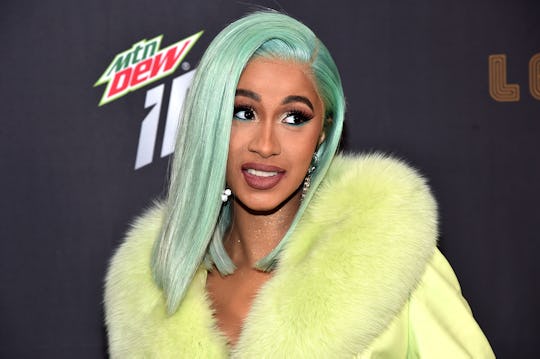 Theo Wargo/Getty Images Entertainment/Getty Images
Cardi B's Question About The 'Black Line' On Her Postpartum Belly Is Totally Legit
It's no secret that pregnancy and childbirth put a woman's body through the wringer — and that it can take some time for everything to return to how it was pre-baby. But that doesn't make it any easier when stretch marks, a still-pregnant-looking belly, and those extra pounds linger around for months (and sometimes years) after giving birth. With this in mind, Cardi B's question about the "black line" running down her postpartum belly is totally legit.
On Friday, Oct. 19, the "Bodak Yellow" singer took to Instagram to share a photo of herself three months after she gave birth to her first child. In the snap, Cardi's impressively toned belly is on full display — but it's the dark line running down her midsection that she's addressing, as People reported. "Ladies how do you guys get rid of the black line in the middle of your stomach after giving birth?? cause bitch😒😒😒😒, " Cardi asked her Instagram followers. Fans offered a variety of answers — ranging from putting coca butter on it, to scar cream, to Bio Oil. But the overall consensus was time. One Instagram follower wrote, "It will fade away by itself, it's part of your hormones."
Another fellow mom commented, "My baby is almost 6 months and mine just went away over time! It made me nervous it'd never go away!"
Yet another person wrote, "It goes away on its own. I had 2 kids and they both went away. You gotta wait it out."
Other followers had more pressing concerns about the photo, aside from the dark line on her tummy. One person wrote, "Forget how to get rid of the line. How do you get that shape so soon after having a baby?!😍"
Another follower chimed in with, "It goes away by itself but dame look at those abs girl 👏🏽👏🏽👏🏽👏🏽👏🏽."
As WhatToExpect.com explains, the line to which Cardi B is referring is actually called the linea nigra.
Pregnancy hormones are behind the appearance of the linea nigra (Latin for "black line"). The condition is the darkening of your linea alba, the "white line" of skin you'd probably never noticed that runs between your belly button and your pelvis.
And as it turns out, the majority of her followers were right because the linea nigra should eventually fade on its own a few months after giving birth, according to WhatToExpect.com. So sorry to break it to you, Cardi, but only time is going to help with this one.
As E! Online reported, Cardi B welcomed her first child — a baby girl named Kulture Kiari Cephus — with husband Offset on July 10. Since then, the rapper has continued to keep it real with her fans... even on national television. During a recent appearance on Jimmy Kimmel Live!, the new mom spilled all the details surrounding her birth experience.
"Was childbirth easier or harder than you imagined it would be?" Kimmel asked.
"It was totally harder," Cardi B replied. "She broke my vagina."
"Oh really? That's a rude thing for her to do," Kimmel responded, in between his laughter. "I was always worried about stepping on a crack and breaking my mother's back."
"You know, why nobody told you about those things?" Cardi B told the host. "Nobody told me they was going to stitch my vagina." LOL. Leave it to Cardi to tell it like it is.
As far as the linea nigra is concerned, for each of my kiddos so far, mine has always stuck around for several months after giving birth — before slowly fading over time until it was no longer visible. (But you can bet I was just like Cardi and worrying it might be a permanent fixture on my belly.) In the meantime, there is a silver lining for Cardi B: With those rockin' abs, no one is going to be paying any attention to her linea nigra.