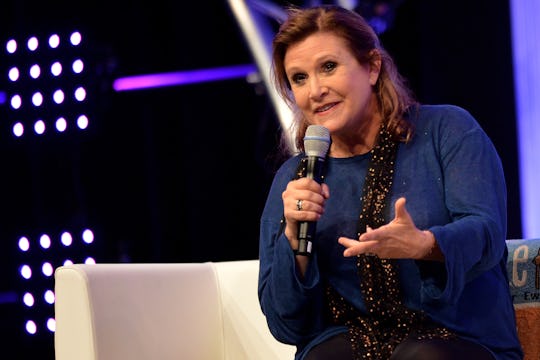 Sascha Steinbach/Getty Images Entertainment/Getty Images
Carrie Fisher Had A Heart Attack Mid-Flight
According to various reports, Star Wars actress Carrie Fisher suffered a massive heart attack while on a flight from London to Los Angeles. The plane was still in the air when she went into cardiac arrest and passengers were reportedly administering CPR, according to TMZ. The plane landed at LAX around noon and Fisher was rushed to the hospital. According to witnesses, she did stop breathing for a few minutes.
On Friday evening, her brother told the Associated Press that Fisher was in stable condition and "out of emergency," but didn't provide any additional details.
Fisher, 59 years old, was in London filming Catastrophe and finishing up a European leg of a book tour for her memoir, The Princess Diarist, which was released this fall. The memoir is a collection of memories and actual journal entries and memorabilia from her time on set filming Star Wars. In the book, she revealed that she and co-star Harrison Ford had a three-month fling, confirming all of the film's fan theories. Fisher writes in the book, "I didn't have anyone to confide in. I had no friends, and I couldn't talk about [the affair with Ford] because he was married."
In addition to her acting career, Fisher is also an advocate for mental illness and lives with bi-polar disorder herself. She's also openly struggled with substance abuse. Fisher is known for "living out loud," for sure. She told NPR this fall, "I think I do overshare. It's my way of trying to understand myself. It creates community when you talk about private things."
Recently, Fisher has been making appearances with her service dog, Gary (no word if he was traveling with his human when she had the heart attack). The French Bulldog has been with Fisher for three years but became a quick celebrity when he walked the red carpet with Princess Leia at the opening of The Force Awakens. He also famously nodded off during a Good Morning America interview with Amy Robach, who noted that Gary was "bored as hell" with the line of questioning.
It was also during the Robach interview that Fisher shot down questions about her weight, proving yet again that she is definitely a Boss when it comes to feminism. When asked about the fact that she had to lose 35 pounds for The Force Awakens role, Fisher said simply, "I did lose weight. And I think it's a stupid conversation." Yikes. She then asked Robach about her own slim figure, totally turning the tables.
Fisher always seems to know just the right thing to say. Whether it's raising awareness about mental illness, talking about being a woman in Hollywood, or just goofing around with her pup on social media, Fisher has a spot in most everyone's heart.