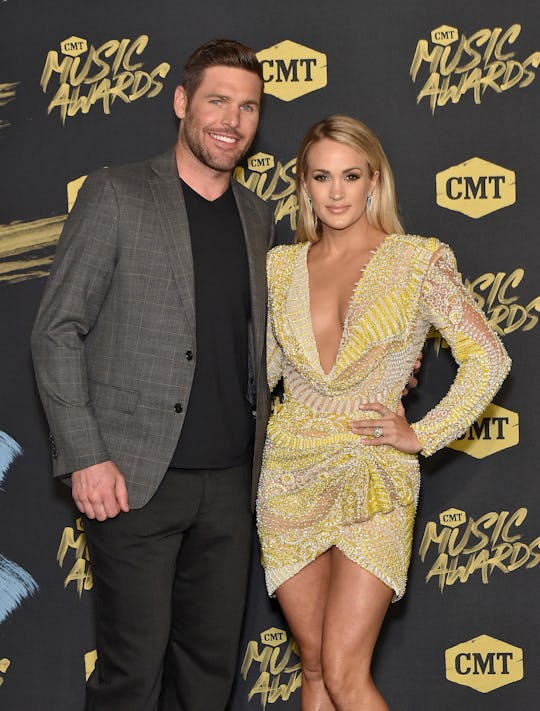 Mike Coppola/Getty Images Entertainment/Getty Images
This Is Why Carrie Underwood Says She Might Not Be Having More Children
Carrie Underwood certainly seems to have it all: the country superstar is happily married to retired NHL player Mike Fisher, is a loving mom their 3-year-old son, Isaiah, and despite suffering an accident last year that left her with a broken wrist and more than 40 stitches in her face, she's since bounced back with yet another hit album. But there is at least one thing that likely won't be in the cards for the singer: in a recent interview with Redbook, Carrie Underwood said she missed her chance to have a big family, and though she and Fisher are open to the idea of adopting down the line, it doesn't sounds like there will be be many more pregnancy announcements to come from the couple in the future.
Underwood opened up to the magazine about some of the challenges 2017 brought her way, and admitted that, it was definitely "a very soul-searching year." Part of that, of course, was the accident — she tripped on the steps outside her Nashville home in November, according to People, and ended up needing surgery — and her absence from the spotlight led to rumors about plastic surgery, and intense speculation over her post-accident appearance. But while she has certainly bounced back to release her latest album, Cry Pretty, which she actually co-produced, it doesn't sound like her year of self-reflection has left her feeling any rush to add any more children to her family.
When asked by the mag if she wanted to have a big family with Fisher, the singer said it wasn't necessarily about wanting one, but more about it not being particularly realistic. Underwood said, "I'm 35, so we may have missed our chance to have a big family," but added that she and Fisher "always talk about adoption," and that they might do it "when [their] child or children are a little older." In other words? It still sounds possible that the couple might be open to the idea of at least having one more child together, and of course, there are many women who chose to continue having children into their late 30s and 40s, so age isn't necessarily an issue. But for Underwood, the burning need for a bigger brood doesn't appear to be there — and not only is that totally valid, she certainly wouldn't be the only celeb mom to decide she is happily "one and done."
In fact, Underwood told Redbook that she was so content with her current life, that if she could go back and give her pre-American Idol self any advice, she actually wouldn't. Underwood said,
I don't know if I'd tell her much of anything, because I would want everything to turn out exactly how it has. Every lesson that I've learned was an important one and led me to where I am — and I like where I am now.
Another element that may be factoring into her decision though, is just that it can be really, really difficult to be a music superstar and a mom of multiple children. In Oct. 2016, Underwood opened up to TODAY about the reality of balancing motherhood with her busy career, and said that, prior to her son's arrival in 2015, she worried about how she was even going to handle it all:
I'm fortunate because I get to have my little guy with me. I was so concerned about going on tour and how it was all going to work. How am I going to be a mom? How am I going to do what I do? He's learned how to hang with us and keep up. It's been really wonderful having him out on the road.
At the same time though, Underwood and Fisher may not have closed the door to another pregnancy just yet. Back in 2016, she spoke about possibly wanting at least one more baby, and in April 2017, the singer told People that she and Fisher were following "God's good timing," when it came to having more children.
Either way though, Underwood absolutely sounds like she's living her very best life in 2018 after what had been a pretty challenging year, and it makes total sense that she's in no rush to change that. And while age alone doesn't necessarily have to put anyone's dreams for a big family aside, if stopping at one child feels right for them, Underwood and Fisher are definitely making the right call.