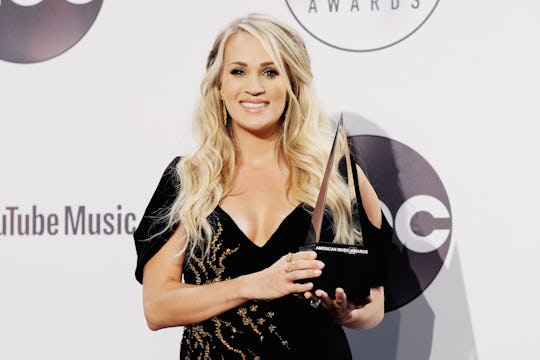 Matthew Simmons/Getty Images Entertainment/Getty Images
Carrie Underwood's Baby Bump Was On Full Display During The AMAs
Carrie Underwood had quite the night at Tuesday's American Music Awards (AMAs). On top of taking home the award for favorite female country artist, performing a new song, and showing off her growing bump, the pregnant singer found time to drop a few hints about her upcoming Cry Pretty Tour 360. Carrie Underwood will be taking her kids on tour, she revealed on the red carpet, and she seems so excited to bring family life on the road.
The Cry Pretty Tour 360 will kick off on May 1 in Greensboro, North Carolina according to the 35-year-old singer's website. By that time Underwood will have given birth to her second child, and on the AMAs red carpet she shared her plans to bring her new baby, her 3-year-old son Isaiah, and her husband, hockey player Mike Fisher, along for the ride, Fox News reported. "I'm not going to sleep," Underwood joked on the red carpet, according to Fox News. "I did it once with one. How much harder can it be?"
In October 2015, Underwood announced she would be bringing her son Isaiah on her The Stories on the Road tour, E! News reported at the time. When the tour kicked off in January 2016, Isaiah was just under a year old.
Having two little ones with her on tour certainly sounds exhausting, but Underwood wouldn't have it any other way. After getting home from the AMAs Tuesday night, Underwood took to Instagram to further express her gratitude for being named favorite female country artist, as per CNN. "That said, I'm off to peel this dress off and cuddle up to my little man!" she wrote at the end of her post. No matter how much Underwood loves her career (which is clearly a whole lot), she always finds a way to balance it with spending time with her son.
In fact, since welcoming Isaiah in 2015, Underwood has opened up about finding that work-life balance on multiple occasions. In an April 2017 interview with People, she said:
But you just make room and you learn how important that family time is, and to be able to spend time and carve out some of that and maybe get to go on vacation and maybe get to go on a cruise — that stuff is so important too, like I said, make time for family .... That's what it's all about.
Underwood has also given fans a few entertaining glimpses into her life as a touring mama. In November 2016, she Instagrammed a photo of Isaiah cuddling on her lap while she did her hair backstage for a show. "He doesn't care that Mommy had to get ready for a show...all he knows is that he woke up cranky from his nap and needed a cuddle," Underwood captioned the sweet shot. "I was more than happy to comply."
In August, Underwood and Fisher announced that they had another bundle of joy on the way. "Mike, Isaiah and I are absolutely over the moon and excited to be adding another fish to our pond," the proud mama announced in an Instagram video, Us Weekly reported. "We're just so excited and glad you guys can share this with us and be a part of it."
Even though Underwood may not get as much sleep as she'd like on her upcoming tour, it doesn't seem like she'll mind at all.