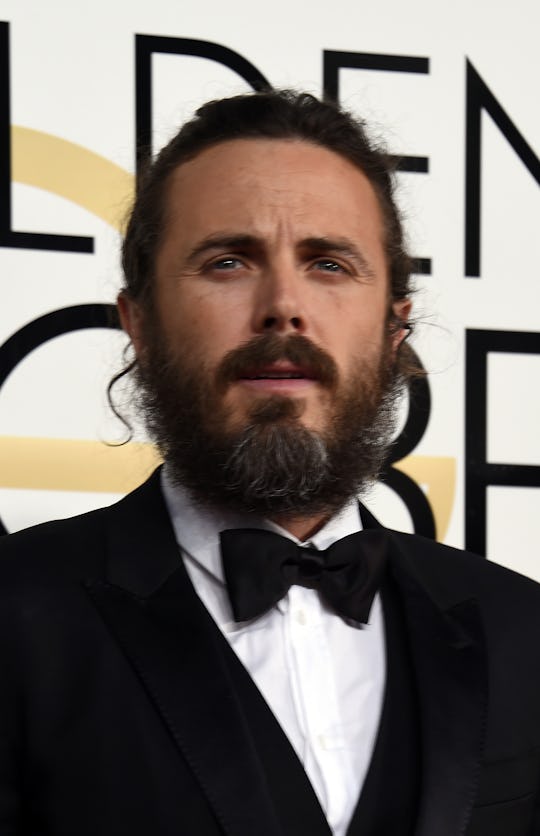 VALERIE MACON/AFP/Getty Images
Casey Affleck's Golden Globes Win Is Bothersome
At the end of (arguably) the disastrous year that was 2016, the country turned its collective head toward awards show season searching for a fresh beginning and a chance to start anew. As another year begins, so do the red carpets, acceptance speeches, and celebratory accolades. While it would be wonderful to use these moments to tune out, relax, and forget the world is a teaming hot dumpster fire, on Sunday evening, Hollywood wouldn't allow anyone the chance. During the 74th Annual Golden Globes award show, victims across the country were reminded yet again there is no clemency from trauma, no escape from reality, no reprieve from the horror of everyday life. Because unfortunately, Casey Affleck's Golden Globes win, despite sexual harassment allegations against him, reinforces a detrimental precedent that the harassment of women (whether sexual or otherwise) isn't a "big deal."
In one example, it's allowed other white, cisgender privileged men who were actually convicted of sexual assault only three months spent in jail. In another, it allowed a man who bragged about grabbing women by the p*ssy to ascend to the most powerful office of the United States: the presidency. It has sufficiently infiltrated every single part of our society, but seems to be actively swept under the rug in the entertainment industry with a precision that should worry us all. And, now, it seems to be affording Affleck a continued career despite allegations of sexual harassment.
In 2010, producer Amanda White and cinematographer Magdalena Gorkatwo, both of whom worked with 41-year-old Affleck on the Joaquin Phoenix mockumentary I'm Still Here, accused him of sexual harassment. The two women sued Affleck for $2 million and $2.25 million, respectively, according to The Cut, alleging Affleck verbally and physically harassed them throughout I'm Still Here's filming. The case was settled outside the court following mediation.
Since the out-of-court settlements were finalized, Affleck has denied the allegations lobbied against him. A request for comment to Affleck's PR representative on the sexual assault allegations by Romper was not returned by the time this piece published. In November of 2016, just days before his buzz-worthy film Manchester by the Sea was to release in theaters, the allegations against Affleck once again flared. In an interview with The New York Times, Affleck described the allegations as "baseless attacks on his family." In an email to the NYT, Affleck said of the suits:
It was settled to the satisfaction of all. I was hurt and upset — I am sure all were — but I am over it. It was an unfortunate situation — mostly for the innocent bystanders of the families of those involved.
In an interview with Variety a month prior, Affleck said of the accusations against him, "People say whatever they want." He continued:
Sometimes it doesn't matter how you respond. I guess people think if you're well-known, it's perfectly fine to say anything you want. I don't know why that is. But it shouldn't be, because everybody has families and lives.
While an out-of-court settlement means the public may never know for sure what transpired between Affleck and his two accusers, a lingering question has since attached itself to the entire situation: Would it even matter if we did?
For the most part, the media has stayed away from the allegations against Affleck, the court cases, and the settlements. Instead, it seems Affleck has been given carte blanche, a hallway pass; allowed to float from red carpet to press junket, controlling the narrative and talking about his new movie, Manchester by the Sea, and little else. As The Cut author Allie Jones so plainly pointed out: "His cruise to the Oscars continues undeterred because of his privileged position in Hollywood." After all, why would we, as a culture, want to ruin a few hours of escapism in a Oscar-worthy film with an A-list cast by muddying the waters with something like reality?
Sadly, the overall treatment of Affleck's sexual harassment allegations are nothing if not normal when it comes to Hollywood. Whether it's the highly publicized rape and sexual assault allegations against Bill Cosby, to the now infamous "Trump Tape," in which the President-elect bragged about grabbing women to then-Hollywood Access host Billy Bush, a culture of harassing and assaulting women has been allowed to largely go unnoticed, unchecked, and unimpeded. Cosby had the freedom to enjoy a lucrative career for decades after the first alleged assault took place in 1969. Trump's presidential campaign was unfazed by the leaked tape as well as his comments, and he will soon take office as President of the United States.
And that's just the tip of the iceberg that is sexual harassment and assault in the entertainment industry. In 2016, actress and activist Rose McGowan alleged via her Twitter account that she'd been raped by a studio executive. McGowan did not identify her alleged rapist by name, and no additional information regarding the alleged incident has since been released. In 2014, singer Kesha alleged her producer and Sony label head, Dr. Luke, sexual assaulted her. A judge rejected Kesha's subsequent civil suit, and Dr. Luke released a statement in response, saying the allegations against him were "outright lies that have been advanced to extort a contract renegotiation and money." He went on to say,
Tellingly, Kesha never reported any purported abuse or rape to any law enforcement authority, or even to Sony Music, and further swore under oath in another matter, while accompanied by her team of lawyers, that it never occurred.
The only thing more prevalent than underlying sexual harassment in the entertainment industry, is the palpable and obvious effort to avoid acknowledging it.
Perhaps it's because I'm a sexual assault survivor and I've lived the reality that leaves fewer than one rape victim in 30 seeing her attacker brought to justice. While over 90 percent of rape victims say they know exactly who their attacker is, including their name, only 15 percent go to the police. When, out of 38 sex crimes, only one leads to a conviction, according to research by the Ministry of Justice, the Home Office, and the Office for National Statistics, victims have little-to-no reason to put themselves through examination, testimony, facing their attackers in court, and surviving the all-too-common online scrutiny and backlash that comes along with being brave enough to tell your story. I know what it's like to come forward, endure a rape kit, and wait for over a year for the possibility of even a court date, only to hear that there's "not enough evidence" to convict your attacker. Women are rarely, if ever, given reason to put themselves in another traumatizing position to ensure their safety. Though Affleck was accused of sexual harassment and not assault, an unsafe work environment is an unsafe work environment, regardless of the specific circumstances.
Of course, Hollywood isn't completely blind to allegations of sexual harassment and assault. Nate Parker, who was accused of sexual assault by an 18-year-old classmate at Penn State, was tried, acquitted, and went on to make a record-breaking $17 million with Fox Searchlight for the Sundance Film Festival star Birth of A Nation. However, unlike his white, cisgender male counterparts, Parker's career took a significant hit when details of his assault allegations resurfaced. His accuser committed suicide in 2012, and in a 2016 interview with Ebony, Parker spoke plainly about not understanding the concept of consent:
At 19, if a woman said no, no meant no. If she didn't say anything and she was open, and she was down, it was like how far can I go? If I touch her breast and she's down for me to touch her breast, cool. If I touch her lower, and she's down and she's not stopping me, cool.
The allegations, the story, the comments — each played their part in removing Parker from a bid at taking home an Oscar, and arguably impacted the financial box office impact Birth Of A Nation. Marcia Aasatire, an Academy member, told the Hollywood Reporter:
Personally, I find it really hard to separate the man from the film when he wrote, directed and starred in it. Do I want to see a movie from someone who has committed an assault agains ta woman and who dI do not think recognized his guilt? Right now, based on what I've read, I would not go to the movie.
The Academy, the industry, and even the culture consuming media were all more than happy to hold Parker accountable for his behavior, regardless of the fact he'd been acquitted years earlier. Yet, privileged white men like Affleck enjoy the privilege of calling allegations "noise" during their acceptance speeches. They control the narrative and swiftly separate their real lives from their art. Even Woody Allen, who's been accused of sexually abusing his adopted daughter, Dylan Farrow, and has even been in therapy for alleged inappropriate behavior, continues to make movies. Hollywood, it seems, is much more likely to give white, male, cisgender actors $200 and a right to pass "go!" unscathed.
In an attempt to look safe, inclusive, and equal, the entertainment industry has failed to face an overwhelming problem head on. It often seems potential public relations disasters are more important than justice, and looking wholesome is more important than protecting women. Seeking the truth regardless of the cost becomes a liability, not a decent act of humanity. A film boycotted because of allegations against its lead actor means money lost, investments failed, and time wasted. And in the business where time and money are king, who would want that? Instead of holding these men accountable for their alleged actions by opting out of hiring them, representing them, and furthering their lucrative careers, the Hollywood machine continues to send a dangerous message: entertainment is worth more than women's safety.
In the end, and until the entertainment industry (not to mention our culture at large) drastically re-evaluates what truly matters and how important women's lives — including their quality of life, safety of their work environments, and the validity of their stories — are, there will be more instances where women who've been sexually assaulted or harassed sit down to zone out for a few hours by way of an watch an awards show, only to be reminded of the fact our society often rewards that behavior.