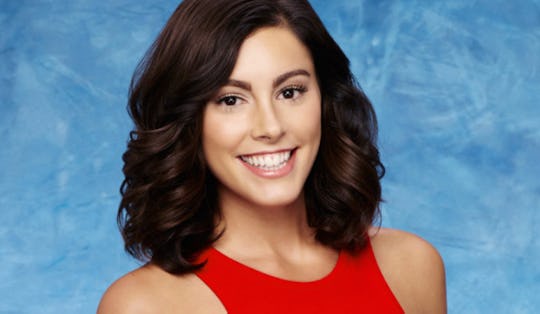 Cecily Strong Speaks Out About Being 'Bachelor's Lace Morris' Twin, And She Couldn't Be Happier About It
Fans of The Bachelor disagreed about quite a bit during Season 20's premiere Monday (who would win Ben Higgins' heart? Who was this season's villain? How could anyone hate bread enough to destroy a perfectly good baguette?), but everyone agreed on one thing: Lace Morris is just like Cecily Strong's Girl You Wish You Hadn't Started A Conversation With At A Party. And it seems another Bachelor fan agreed as well — Cecily Strong herself.
Days after the premiere of the season, and days after tongues started wagging about Lace's messy and hilarious behavior during the season premiere, Strong posted the following message on her Instagram, along with a screengrab of Lace:
I've never been texted more about having a twin on tv and I'm actually 1000% flattered. If Lace and I don't win this f*cking thing, I'm gonna kinda blame myself but also I'm gonna more blame all of these other women holding us back. Stop being jealous. Let me and Lace be us. Kisses and roses- that's gotta be our focus right now.
Couldn't have said it better myself. In the immortal words of one Taylor Swift, haters gonna hate, hate, hate, hate, hate. And, if nothing else, Lace gave viewers one of the more entertaining season premieres of the series. Yes, she pulled Ben aside an almost insane number of times to justify her presence on the show, but, at the same time, girl knows how to create a reality TV moment. And whether it was scripted or not, why should we judge Lace for acting out while being in the extremely difficult reality TV environment?
Will Lace be parodied by Strong on Saturday Night Live, once it returns Jan. 16 with Adam Driver? We'll have to wait to see, but, until then, it's nice that someone appreciates the humor in Lace's position on The Bachelor. Especially when it's one of the most humorous women on TV.
Image: ABC