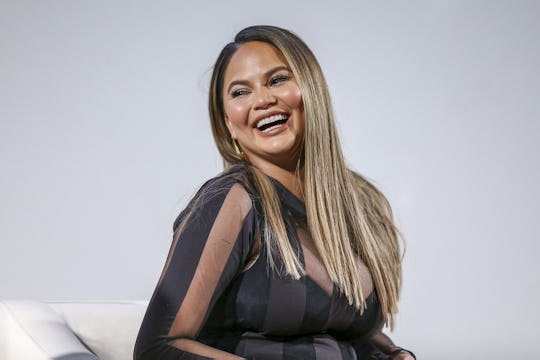 Rich Polk/Getty Images Entertainment/Getty Images
Celeb Reactions To Chrissy Teigen Giving Birth Are Supportive Yet Hilarious
The day Chrissy Teigen (and, let's face it, all her fans) have been waiting for is finally here! Late Wednesday night, Teigen shared on Twitter that her baby boy with John Legend had finally arrived. Even though she posted the tweet late Wednesday night, it quickly racked up plenty of likes and responses from fans — as well as celebrities. Here are some of the best celeb reactions to Chrissy Teigen giving birth thus far.
The newly-minted mom-of-two revealed the happy news in a short but sweet tweet. "Somebody's herrrrrrre! 🍼🤗🍼🤗" she wrote, adding the baby bottle emoji (as well as the hugging face emoji) just in case people didn't know what she was talking about. Over the last few weeks, Teigen has made it very clear that she is ready to give birth. Just last week, she reminded her followers that because she became pregnant via in vitro fertilization, she has known she was pregnant since she was just 11 days along.
Not to mention, having a toddler around throughout this pregnancy has taken a bit of a toll on Teigen. "You realize your second pregnancy is harder because you have a kid already," Teigen told E! News last month. That being said, she must have been extra happy with the timing of her son's arrival, considering his due date wasn't until June.
Celebrity hair stylist (and one of Teigen's besties) Jen Atkin came in with a joke.
Today Show anchor and fellow mom Hoda Kotb sent Teigen a sweet message. "The world just got a little brighter! Congrats!!!" she tweeted.
Teigen's husband John Legend sort of replied — instead of an additional announcement, the proud papa retweeted his wife's post.
Whoever manages the Twitter account for Lip Sync Battle, which Chrissy Teigen hosts, issued a pretty simple response. They must be trying to play it cool.
Teigen has kept her fans in the loop ever since announcing she was expecting back in November. She constantly tweets musings about all the hilarious, wonderful, and horrible elements of being pregnant, and she's even reached out for help with her pregnancy. Back in December, she asked her followers for advice regarding headaches, in a tweet that garnered more than 7,500 responses.
And while her fans may like to think they are her central support system, it's clear that Teigen had many friends in her corner to give her advice on carrying her second baby. Just a few weeks ago, fellow celebrity mom (though she'd prefer the term "momager") Kris Jenner opened up her home to throw Teigen an intimate bridal shower. Teigen took to Instagram to express her gratitude for her friends, especially Jenner and Jen Atkin:
I am crazy super anti baby showers for myself... But people I love trick me with dinner invites and they happen. Thank you to all friends on both coasts, for knowing me exactly. A mellow night of dinner. Cake. And love. That is all I could ever want for a perfect night. ❤️❤️❤️ thank you insanely generous @krisjenner for opening up your home and getting me every carrot cake in the city and @jenatkinhair for knowing exactly how to lure me out of my home and exactly how to make me happy. ALL LOVE!
Teigen likely hasn't needed as much advice during this pregnancy as she did while expecting Luna, since it's now her second time around the block. During her pregnancy with Luna, Teigen got a lot of advice from Kim Kardashian — including fashion advice. Teigen once told InStyle Australia, according to People:
[Kim] told me to go stretchy ... I always wanted to be the person who showed off the bump because it looks beautiful and I think you should embrace it. Kim does that well and I love seeing that belly of hers.
The Teigen-Legend family also heavily relies on Teigen's mom, Vilailuck Teigen, who lives with the family.
"Every time I look at Luna, I wonder, 'How on earth does anybody do this alone?' I have the utmost respect for mothers [and] single mothers," Teigen told ET Online last February, adding:
I have my mother who lives with us, I have John, I have a nanny. I'm very outspoken about it, and when I see that I still have a difficult time, I just don't know how anyone does it.
It's clear that Teigen has an incredible support system in her family, her friends, and her fans. Here's hoping said family and friends encourage her to post a photo of the new baby sometime soon.