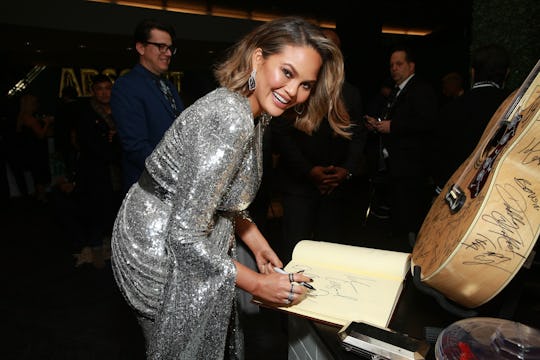 Robin Marchant/Getty Images Entertainment/Getty Images
Chrissy Teigen Dropped "Hints" At What She's Thinking Of Naming Her Son, & OMG They're Funny
In case you somehow haven't heard, the fabulous Chrissy Teigen is currently pregnant with her second child. To her fans' delight, Teigen has been providing hilarious and honest commentary on her pregnancy via Twitter, detailing her growing bump, weird doctor's office forms, and more. A few weeks ago, she revealed that she is expecting a boy — and this week on The Ellen Show, Ellen DeGeneres and Chrissy Teigen discussed baby name ideas for her upcoming bundle of joy. And, knowing the two jokesters, it's no surprise that their pitches had the audience rolling with laughter.
"And do you have a name for him?" DeGeneres asked Teigen. "No! ... Boy names are really tough. I don't even think he'll have a middle name because we can't think of a first name," she replied with a giggle.
"What about Lunar?" DeGeneres joked. (That's obviously a little too close to Luna, Teigen and John Legend's daughter's name.) "What about Urban?" DeGeneres suggested. "Urban Legend." Teigen immediately got on board with the joke name pitches. "I've been toying with Dick Legend a lot," Teigen told the talk show host with a hearty laugh. "Can we say that?" "Yes, you can say it, just don't name him that," DeGeneres replied. Teigen refined her pitch slightly: "Richard Legend." Nice save.
Teigen and Legend have also pondered naming their son John Jr. — but Legend quickly vetoed the idea. "Everyone's like, 'Why don't you do the JJ thing? The John Jr.'" Teigen added. "But John and his ego... he was like, 'I don't want him to feel like he has to live up to that.' And I was like, 'Wow, you are a jerk!' What a jerk!"
Luckily, Teigen and Legend have some time to continue pondering baby names. Earlier in the segment, Teigen revealed that her due date is in June. "I'm having a baby boy in the spring. I'll tell you — it's June!" she said. She didn't reveal a specific date, but if it's really in the spring, then that would be sometime before June 21, aka the first day of summer. (As if I wasn't already excited for summer to begin, this year's summer solstice might also bring photos of Chrissy Teigen's new baby, too!?)
Teigen announced that she was having a baby boy in late January with a simple and sweet Instagram post. She shared a photo of herself (looking drop dead gorgeous, I might add) posing at the Grammys, with the caption "mama and her baby boy." Many fans were pleasantly unsurprised, considering Teigen had previously opened up about only having a male embryo left for IVF. "Since this is coming up again, I said our next baby would be a boy because that is the embryo we have left. A boy. So. Yeah," she tweeted in January 2017.
As mentioned above, Teigen has shared so many tidbits about her pregnancy in addition to her hilarious baby name ideas. Just last week, she told fans that she has gained 38 pounds so far in this pregnancy. (That may be an arbitrary number for the sake of the joke, but either way, I appreciate the Kraft Mac & Cheese hot tip.)
She added that her bump has gotten "bigger, faster" with this pregnancy, adding that she suspects people are lying to her about that being normal.
She also recently opened up about her fears about Luna welcoming her new little brother. What if she takes after her mama and treats her little bro like a new Bravo cast member?
I'm totally counting down the days until Teigen and Legend announce their little boy's birth and name. Please pray with me that they do not go with Dick.