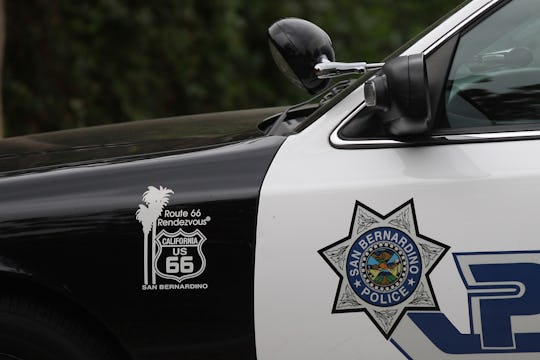 Celebrities React To Shooting In San Bernardino, & They're As Upset As You Would Think
Update: According to officials, two of the suspected San Bernardino shooters are dead following a shoot-out with police, and one of the suspected shooters is a female. Late Wednesday authorities identified the suspects killed as Syed Farook and Tashfeen Malik, the woman, and said they had been in a relationship. Farook was a U.S. citizen and an employee of the of the San Bernardino County Health Department. Further details about Malik are not yet known. Police also detained a third individual at the scene, but it's unclear whether or not that person is connected to the shooting at the Inland Regional Center (where officials say they might have found an explosive device).
In a press conference earlier, the San Bernardino Police Department Chief Jarrod Burguan confirmed that up to three people opened fire at Inland Regional Center, leaving upwards of 14 people dead, with at least 21 additional people injured. At the time of the press conference, law enforcement was still clearing the scene, and the search for the suspects was ongoing.
Earlier: Information is still being released about the mass shooting that occurred in California late Wednesday morning. In the immediate aftermath, celebrities reacted on Twitter to the San Bernardino shooting. The San Bernardino Police Department has confirmed several facts about the incident thus far. In a press conference Wednesday afternoon, authorities confirmed upwards of 14 people were killed and at least 17 more wounded, but cautioned that those were preliminary numbers. They have also said that there up to three shooters, none of whom are in custody. The first call came in to 911 around 11:00 a.m. PST. The police are now searching for a dark-colored SUV seen fleeing the area.
The scene of the shooting was the Inland Regional Center, which provides a range of disability services. It's been reported that most of the victims were employees who had gathered in a conference room for a work party.
Some of the first celebrities to react to the situation were government officials and presidential candidates. Hillary Clinton and Martin O'Malley both used the moment as a call to action on gun control and the need for political change.
Donald Trump spoke up in support of police, as did Jeb Bush.
Other celebs have been quick to speak out as well:
Talk show host, Montel Williams, offered his condolences to the community.
There is an outcry on social media about politicizing the shooting, but it's hard not to think about changing the system that allows such regular and undeserved deaths.
Images: David McNew/Getty Images