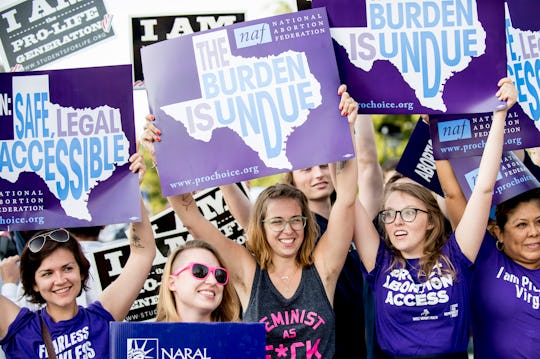 Pete Marovich/Getty Images News/Getty Images
Celebrity Reactions To The SCOTUS Abortion Decision Show How Crucial The Ruling Is
Soon after the Supreme Court announced its ruling to strike down a draconian Texas anti-abortion law, setting an important precedent for the rest of the country, presumptive Democratic presidential nominee Hillary Clinton quickly tweeted about the "victory for women." She followed up to remind her potential voters that the next president still has work to do to safeguard women's health — because, oh yeah, Clinton really, really wants to be president. But celebrity reactions to the SCOTUS abortion decision show that reproductive justice isn't just a political issue, but a deeply human one that entertainers and activists support because it just makes sense.
Enacted in 2013, the notorious H.B. 2 succeeded in shuttering more than half of Texas' abortion clinics by requiring that providers have admitting privileges at nearby hospitals and that the clinics themselves make expensive upgrades to meet specifications that would essentially make them mini-hospitals.
Justice Ruth Bader Ginsburg's fiery one-paragraph takedown of the conservative idea that such provisions protect women's health earned her an epic meme all her own from Planned Parenthood. Texas lawmaker Wendy Davis, who in 2013 staged an 11-hour filibuster opposing H.B. 2, tweeted that "Today made that day 3 yrs ago all worth it!"
The verdict is in, and the restrictive Texas abortion law is out. And popular culture was more than ready for that progress, if celebrity social media is any indication.
First, Lena Dunham, outspoken feminist and creator of the HBO series Girls, Instagrammed a photo of a "coven of witches dancing" to commemorate the historic 5-3 decision:
"GO SCOTUS! BLESS!" Dunham started out the caption. She continued:
Thank you for protecting the women of Texas and the people who love them! Thank you for sending a booming message that our bodies belong to US! (And yes I did Google 'coven of witches dancing' to find a proper image for this moment.) Love to all you fighters who made your voices known!!!
Dunham's fellow HBO star, comedian and Last Week Tonight host John Oliver, tweeted a segment of the show that explained what the heck is going on today, so everyone can get the deets about how some Texas lawmakers are dedicated to controlling women's bodies:
A series of other ecstatic (mostly female) celebrity voices roared their approval as well.
Some well-known men are all about it too, like documentary filmmaker Michael Moore, who poked fun at the fact that conservatives lost this one despite the fact that Republican members of the Senate are refusing to hold a confirmation hearing for President Obama's nominee, Judge Merrick Garland, who would fill the place of the Justice Antonin Scalia. Scalia died in February, and since then the court has had eight sitting justices, instead of its usual nine.
Russell Simmons had a more even-keeled response to the news, but hey:
TV host Janet Mock was feeling much more enthusiastic:
And Cher most certainly was, too:
Not to mention President Obama. He may be a politician and not a celebrity, but his run as commander-in-chief is drawing to a close, so maybe he'll star in some movies next, or become a standup comedian? Anyhow, here's what he had to say:
Celebrities aren't the only ones taking to social media to express their feelings about the ruling today. The Twitterverse and beyond is on fire, and using hashtags like #StopTheSham and #WholeWomansHealth to sound off. The ruling Monday is quite likely a turning point in the quest to ensure women have access to safe medical abortions, so the celebrations surrounding it — and the conservative disappointment and outrage, too — are part of the story. It's about women's constitutional right to make their own choices about their own bodies, so the story is an important one to tell.