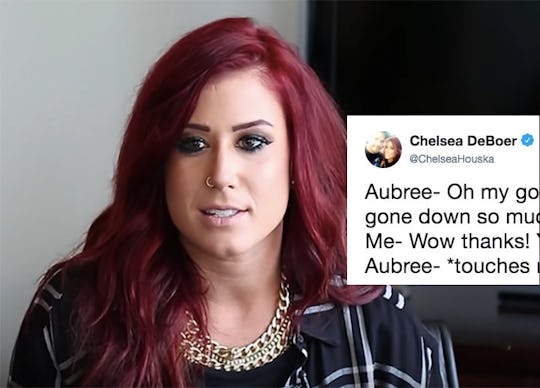 OK! Magazine/YouTube
Chelsea Houska's Convo About Her Postpartum "Tummy" With Aubree Is So Relatable, It Hurts
It's a little wild to think about, but Teen Mom 2 star Chelsea Houska's newborn daughter, Layne, is almost 1 month old. So much has already changed since the newborn entered the world on Aug. 29, especially where it concerns Houska's morning routine at home. But what hasn't changed? Houska's hilarious and relatable banter with her 9-year-old daughter, Aubree. Case in point: Chelsea Houska's conversation about her postpartum "tummy" with Aubree is resonating with a lot of parents.
Houska, similarly to many parents out there who just gave birth, is in the process of adjusting to her new life with three kids. And things haven't been totally easy for the reality star; not only did she suffer from a bad case of mastitis, she also soldiered through a tough morning without the help of her husband, Cole DeBoer, after he returned to work.
But just when you thought things couldn't get any worse, Houska had an deflating conversation about her postpartum body with Aubree. She took to Twitter on Wednesday to share the funny convo, writing:
Aubree- Oh my gosh mom! Your tummy has gone down so much!
Me- Wow thanks! You just made my day!
Aubree- *touches my stomach* "squishy!"
"Never mind...day ruined," she ended the tweet with a grimacing emoji.
Lol! Aubree's comment probably sounds super familiar to many parents out there because kids have an uncanny knack for hitting you where it hurts without even realizing it or intending to do so. It reminds me of the time when a child I babysat innocently asked me, "Why is your hair orange?" after a particularly bad dye job. Bless their little hearts.
Shortly after Houska posted the back-and-forth, plenty of fans chimed in with similar anecdotes.
"You know what's worse? When your father in law asks if your husband was 'at you again' in the hospital because you still look pregnant," one person wrote, to which Houska replied, "Nooooo."
Yikes.
Someone else added: "Kids!!! I lost 80 pounds and my son said, I can finally touch my hands together when i hug you!!"
"My son will go 'moms belly is full of jelly' bahahaha omg," a commenter added.
"My nephew looks at old pics of me right after I had my son and he'll be like 'you were puffier then' haha I love kids," a fan joked.
Although Houska quipped that her day was "ruined" by Aubree's remark, don't worry about her self-esteem. The mom admitted during a TM2 reunion episode that she has done a lot of soul searching throughout the years to get where she is today, sharing, according to E! News:
I think I had pretty low self-esteem, you know, high school times. I feel like a lot of girls go through that. And they always want to get the guy that they think they can change. Or you get stuck with someone who makes you feel sh***y about yourself and you just want to be enough. And I think it was finally getting confidence to, like, step out of that and be like, "No, I don't deserve that."
Fans of TM2 probably gathered Houska was making reference to her unhealthy relationship with Aubree's father, Adam Lind, in her remarks. Lind would regularly put down Houska at every twist and turn, even going as far to call her a "fat stretch mark b***h" after she gave birth to Aubree in September 2009, according to CafeMom.
Luckily, Houska has since moved on to a healthier place in life, stating on the reunion episode, according to E! News: "This is definitely where I always wanted to be."
Yep, I think it's safe to say Houska can handle an innocent comment from Aubree given her inner-strength these days. Not to mention, the conversation is pretty cute reminder that kids say the darndest things sometimes. Keep being you, Aubs.