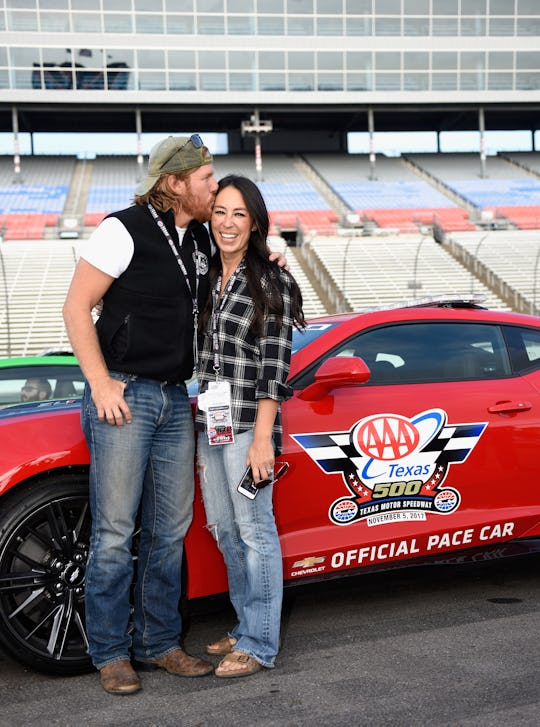 Jared C. Tilton/Getty Images Sport/Getty Images
Parents Are Cracking Up At Where Chip Gaines Seemingly Found Baby Crew's Car Seat — PHOTO
Chip and Joanna Gaines have done some wild things in their life together — from opening a bakery from scratch with a baby on the way to creating a lifestyle empire in the span of only a few years — but it's the family's down-to-earth sense of humor and ability to share silly parenting moments that fans really love. For example, Chip's new photo of finding baby Crew's car seat in an admittedly unsafe place is cracking parents up.
In a new shot just posted on Instagram on Tuesday, Chip captured an angle of 2-month-old baby Crew's dove-gray car seat, with no occupant in it. Sounds normal enough until you notice the seat (looks like a Combi model to me) is actually next to the kitchen stove and a baking pan filled with something delicious, maybe apple cake... or corned bread? Blondies? Focus, people, focus!
Sure, everyone knows that anything coming out of Joanna's kitchen has got to be delish. But finding the infant's car seat on a flammable surface has made fans do a double-take, just like the reality TV dad, who hilariously captioned the photo:
If you've read my book #CapitalGaines you know I'm NO child safety specialist, but even I know this can't be a good place for a car seat.
I just had to laugh out loud when I saw this, and so did a lot of other folks. "I'm happy that Crew isn't still in the seat🤣😂😳," wrote one fan, while another added. "Oh Lord where did you leave this little fella??"
A third user fittingly added, "You better watch out for the parent police... they will be all over this. 😂🤣."
Meanwhile, other users meanwhile commented about wanting a piece of the cake (which is totally understandable).
Given his caption, it seems that Chip stumbled onto this scene. It's hard to imagine Joanna too disorganized, knowing her from afar, but hey, things happen with many kids running around a house, let me tell you...
However Crew's car seat got on top of the counter, it's great to see that, as glamorous as they are, they're still relatable enough to make some of the same forgetful parenting moves the rest of us occasionally do. It's also great to see they're keeping their sense of humor (not that I would have expected otherwise from Chip, of course).
Chip and Joanna — parents of Drake, 13, Ella Rose, 11, Duke, 9, and Emmie Kay, 8 — welcomed youngest Gaines, Crew, in June. The Texas family seemingly broke with tradition by not naming their youngest boy a "D" name. But as fans on Instagram previously pointed out, his name is more than fitting as the newborn completes the Gaines "crew."
Between their line for Target and a new gorgeous new lifestyle publication called Magnolia Journal, as reported by One Country, this is one family that's mastered multitasking, with Joanna having once told People that "Chip is the best swaddler."
Besides all their other projects, little Crew's nursery also took some Gaines family creativity: NBC News reported that Joanna detailed in her new magazine the fact that the baby's room was originally the family den until she recently converted it using mid-century modern furniture pieces and, of course, a rocker.
So while fans, like me, are still mourning the end of the family's show, Fixer Upper, you know this is only the beginning for their decorating and lifestyle empire, and it's all well-deserved. I've always thought Chip was absolutely hilarious, and him poking fun at his household's baby-proofing infraction is just further evidence that he is.