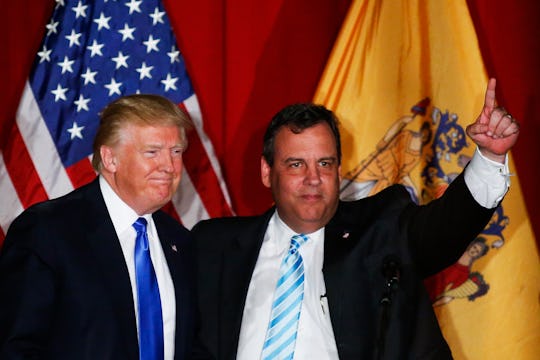 EDUARDO MUNOZ ALVAREZ/AFP/Getty Images
Chris Christie Defends Trump, Says He's 'Not A Racist,' No One Believes Him
Presumptive Republican presidential nominee Donald Trump has not backed down from his controversial attacks on Judge Gonzalo Curiel, a federal judge presiding over lawsuits against Trump University. On more than one occasion, Trump has publicly stated that Curiel is unable to fairly handle the case since he is of Mexican heritage – and Trump has big plans to build a wall on the U.S-Mexican border should he win the presidency. The real estate mogul received a good amount of backlash from all sides for his unambiguous racist remarks, but New Jersey Gov. Chris Christie has made it clear he has his back. When a group of reporters asked Christie about Trump's dangerous language against Curiel outside a New Jersey polling location on Tuesday, Christie defended Trump saying, he's "not a racist."
Christie, who endorsed Trump after ending his presidential campaign in February, instead insisted that he doesn't know the specifics of the Trump University lawsuits, and argued that Trump has every right to express his opinions – I suppose, inherently racist, xenophobic, sexist, and islamophobic remarks about the communities he's hoping to serve one day are included in said rights.
"Those are Donald's opinions and he has the right to express them, the same way that anyone has the right to express any of their views regarding how they're treated in the civil or criminal courts in this country," Christie said according to NBC Washington. "That's what free speech is all about."
In a video captured by ABC News, Christie then assured the media that he has not noticed any racist displays from the presumptive Republican nominee throughout his 14 years of knowing him:
I know Donald Trump, I've known him for 14 years, and Donald Trump is not a racist. The allegations that he is are absolutely contrary to every experience that I've had with him over the last 14 years.
But Christie's unwavering loyalty to Trump and his remarks is not exactly a popular stance within the Republican party.
Republican House Speaker Paul Ryan caused a social media frenzy when he endorsed Trump last week, but he publicly denounced Trump's remarks about Judge Curiel on Tuesday, saying he fundamentally disagreed with the comments, calling them "the textbook definition of racism." And he's not alone.
Republican South Carolina Sen. Lindsey Graham has called on Republicans who have endorsed Trump to rescind their endorsements, calling his attacks on Judge Curiel and similar public comments Trump's made about having a Muslim judge, "un-American," according to The New York Times.
Trump's remarks about Judge Curiel were flat out racist – even members of his party agree. But it's certainly not the first time he's expressed racist rhetoric, he kicked off his presidential campaign calling Mexican immigrants rapists, after all. This latest round of insults seem to be just another drop in the bucket.