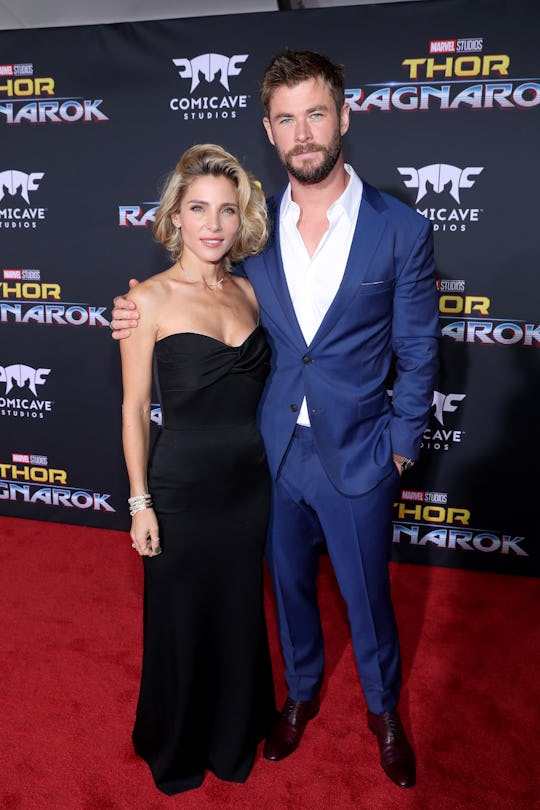 Rich Polk/Getty Images Entertainment/Getty Images
Chris Hemsworth's Career Suffered When He Had Kids & Yep, Welcome To Motherhood
Actor Chris Hemsworth looks like he pretty much has an ideal life: he is inexplicably handsome, is happily married to a woman who is similarly gorgeous, and together they are raising three (likely also very beautiful) children in a mansion in Australia because he is also a successful movie star who makes a ton of money. But in a cover story for GQ Australia's November issue, Hemsworth opened up about his private family life, and reflected on a topic powerful men are rarely even asked about: how he balances his work with being a dad. His response? Chris Hemsworth said fatherhood took a toll on his career, and admitted that his decision to prioritize his family has meant that some of his film roles have suffered.
The Thor star told the magazine that while he doesn't regret putting his wife and children first, he does at times wonder what would have happened if he hadn't pursued family life, and whether his professional accomplishments would now be different. Hemsworth said,
I often find myself saying it's all for my family but in all this I definitely have personal things I need to achieve, too. The difference is you have to open yourself up and go, 'Well, you had kids so you forfeited a bit of that.'
Hearing Hemsworth discuss the challenges is pretty eye-opening — it's not often that male celebrities are even expected to experience any difficulties relating to work-life balance at all, even though prominent women are asked this question all the time. And even though dads today seem to be leaning in to fatherhood more than perhaps they ever have, it still seems to be assumed that men with demanding careers need or deserve (or, at least, are expected) to put their work first sometimes. Choosing to do the opposite really *can* be a professional sacrifice, and it's one that not all dads might even feel they're able to choose, even if they want to.
But that's not just conjecture: studies have shown, for example, that most new dads take less than a week off of work after their babies are born, even if they have the option to take more, according to Industry Week. And in Sweden, where dads do tend to take advantage of more generous parental leave policies, the government still initially had to tweak the program so that men had more of an incentive to actually take part (couples who shared their parental leave allowance equally, for example, were entitled to more leave time overall, according to The Economist).
The lack of support dads are given to prioritize their families over their careers is frustrating, but at the same time, the challenge Hemsworth faces is far from being anything close to being what virtually all mothers experience in the workplace. After all, if it weren't already infuriating enough that women are paid less than men for doing the same work, they also face a "motherhood penalty" — the very real phenomenon where women make less money, earn fewer promotions, and are generally viewed as less dedicated and hardworking than their male colleagues simply because they have children.
And, yes, it really *is* a gender issue: studies have found that even women who don't have children experience a motherhood penalty if it's possible they could potentially give birth one day.
That's definitely not to say that Hemsworth isn't aware that women have it rough though: in a 2017 interview with GQ Australia, the actor spoke about his wife, actress Elsa Pataky, and acknowledged that she had made some major career sacrifices for the benefit of their three kids — but also, specifically for him. He said,
In terms of work, [she has] certainly given up more than I have. She'd like me to step back and be at home with the kids more, and of course, I want that too. But I feel like I'm at this crucial point in my career. I've just got to set up for longevity or I'll slip off.
That's a pretty honest admission, and likely one that hits close to home for a lot of families, even outside of Hollywood. But if there was any doubt about the double standard among men and women, this quote also sums it up quite nicely: if, instead, it were Pataky admitting that she wasn't spending enough time at home because she's at a "crucial point in [her] career," she'd likely be widely viewed as selfish and, quite frankly, judged as being a terrible mother.
In other words? Hemsworth's comments matter, and the struggle men face to step back from their careers for their families is certainly something that needs to be discussed far more than it is. But while there may be a long way to go for men to feel comfortable making those sacrifices, it's still nothing compared to what women face when it comes to having careers and being mothers.