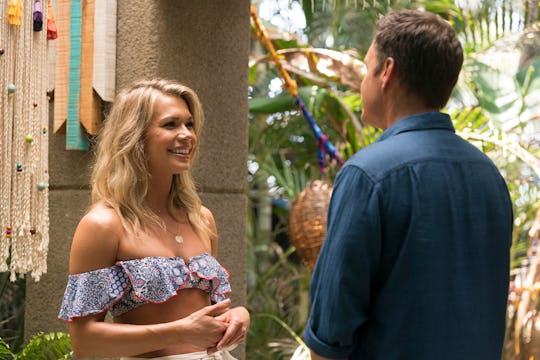 Paul Hebert/ABC
Krystal & Chris Shared A Scandalous 'Bachelor In Paradise' Kiss
Before each season of Bachelor in Paradise premieres, you can never quite predict who will end up with who. Sure, there are obvious pairs that happen, but then there are the couples totally out of left field who end up making it. Krystal and Chris, for example, seem almost too perfect for each other. Even so, it was unexpected when Chris kissed Krystal on Bachelor in Paradise because Chris seemed ready to move ahead with a relationship with Tia.
Tia went through the ringer with Colton in the span of just a couple BIP days. When he told her that he planned to pursue the possibility of romance with other women, Tia decided to move on herself. For Tia, moving on came in the form of moving toward Chris, who she'd already gone on a date with in Paradise. But shortly after they decided to make it BIP official, he did a 180.
If Chris didn't already have a reputation as the bad guy from Becca Kufrin's season of The Bachelorette, then his kiss with Krystal sealed his fate in the franchise. When Tia found out about the kiss, she was understandably upset and she confronted Chris the first chance she got. And I would have expected nothing less from Tia. Her reaction to Chris and Krystal's kiss was what anyone's would have been, BIP or not.
During their respective seasons of The Bachelor and The Bachelorette, Krystal and Chris were the trouble makers. They were unafraid to speak their minds and confront other contestants at times. In that regard, they might be perfect for each other on BIP. Or, you know, a recipe for a perfect disaster. And if they were to get together and be endgame for each other this season, that's totally OK. But Chris kissed Krystal when he was supposed to be pursuing something with Tia and that's where the problem lays.
The worst part of it all is that this week, the men are in charge of giving out roses. Last time, Tia gave hers to Chris with the expectation of starting something with him in Paradise. But after he kissed Krystal and claimed that he's not in a relationship with anyone, that could mean his rose won't be going to Tia. And it seriously jeopardizes her future on the show this season.
This early in the season, it's hard to figure out who will be together for the long haul. Already, people are swapping partners for newcomers, so it wouldn't be the most surprising thing in the world if Chris dropped Tia for Krystal. But it's also really not cool for him to do that behind Tia's back, especially when she put her faith in their would-be relationship after stepping away from Colton. Unsurprisingly, Tia confronted Chris about his kiss on BIP and he definitely couldn't deny it.
Tia isn't one to mince words or keep her feelings to herself. Case in point — showing up on The Bachelorette to tell Becca that she still had feelings for Colton. The kiss came after Chris told Tia that he wants to see where things go with her specifically and doesn't want to look for anyone else and doesn't want her to either. From here, I would imagine that Tia will be without a rose at the next elimination ceremony and Colton will be forced to give his to her. Thus, bringing them back together. If you hadn't noticed, this is basically The Colton and Tia Show this season. And something tells me they aren't quite done with each other.