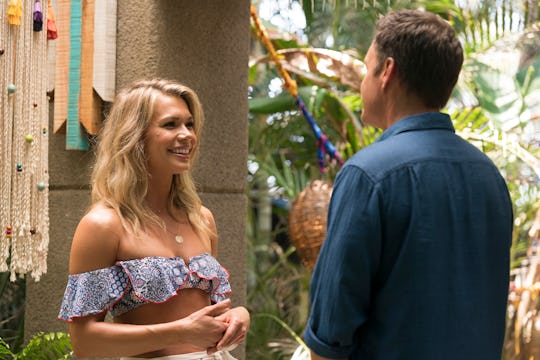 Paul Hebert/ABC
Krystal & Jordan Could Be A Match Made In 'Bachelor In Paradise' Heaven
It wouldn't be a Bachelor show without a designated villain, and two of the most notorious villains in recent seasons were Jordan Kimball and Krystal Nielson. Both were known for getting under their fellow contestants' skin and for an almost perfect lack of self-awareness. So, obviously it makes you wonder, do Krystal and Jordan get together on Bachelor in Paradise? Jordan appeared on Becca Kufrin's season of The Bachelorette and made his mark as the highly self-satisfied model with a certain, shall I say, facility with language that's hard to forget.
Then there was Krystal on Arie Luyendyk Jr.'s season of The Bachelor, who irritated the other women on the show to no end. But she really came into her own as that season's "bad guy" when she decided to boycott a group dinner party because of bowling argument. It's a long story. When two characters are as polarizing as these two, it makes a perverse sort of sense that they would be matched up on Bachelor in Paradise, a show where anything is possible.
Since most of the contestants have done fairly well in keeping their social media accounts free of spoilers or telltale photos, there's no way to know for sure. But judging by the season promo for BiP, I'm going to guess that they didn't make a love connection, even if they seem like a solid match in terms of their personalities.
In the promo for Season 5, Jordan and Annaliese Puccini are shown on a romantic beach date. And on Krystal's Instagram, she posted a photo from the show of her and Joe Amabile. These could be red herrings, but I honestly believe that the idea of Jordan and Krystal together is better on paper than in life.
While sometimes similar personalities and values might make for a solid couple, when it comes to Jordan and Krystal, that may not be the case. They both have such strong personalities that I can see them clashing more than anything this season on BiP. They may share a love for social media and fitness but I know I would never survive if my spouse was as loud and goofy as I am. Sometimes being exactly like each other isn't enough and I think that would be the case for Krystal and Jordan.
The only thing that might point to Jordan and Krystal getting together on BiP is their Instagram activity timelines. Both Jordan and Krystal became inactive at the beginning of June and resumed their Instagram accounts on June 26 and 27, respectively. Then again, Joe's Instagram also became active again on June 26, so it could just mean that they're all part of the group of contestants who made it to the end of the season. When it all comes down to it, there's just not enough evidence to support Jordan and Krystal being a thing on BiP and afterward. I'm inclined to believe that their similarities could have made them unable to mesh well as a couple, even if they hit it off initially this season.
Thankfully, there are enough contestants this season to give both Jordan and Krystal each a fighting chance at finding love with someone other than each other. While it's totally possible that they get together on BiP Season 5, there aren't really any clues to suggest it yet. And since they aren't the only contestants who likely made it to the end of the season, it's possible they both got together with other Bachelor Nation stars.