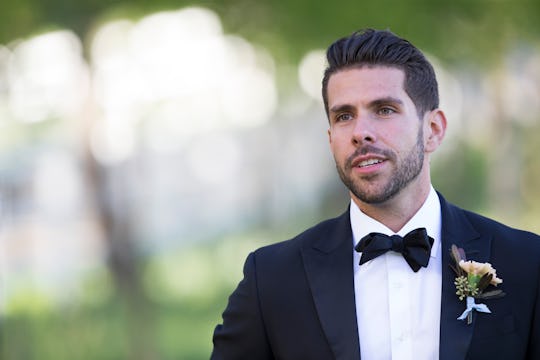 Paul Hebert/ABC
Twitter Can't Get Over Chris From 'The Bachelorette' Looking Like Ben Stiller
With more than two dozen contestants on The Bachelorette each season, you're bound to see some celebrity doppelgangers, and this season it's painfully obvious how much Chris Randone looks like a certain really really ridiculously good looking fictional male model. That's right — The Bachelorette's Chris looks just like Ben Stiller and Twitter is freaking out over it. Other than looking like the long lost child of a real life huge celebrity, Chris does seem like he has a lot to offer Becca.
He was able to open up to her on their first one-on-one date of the season and even wrote some love poetry for her despite finding it difficult at first to open up romantically. By all accounts, he's totally a catch and could make it far this season. But right now all I see when I look at him is Stiller and apparently, I'm not alone, as Bachelorette fans on Twitter also can't believe how much the two men look alike.
Honestly, from night one, fans have likened Chris to a number of different celebrities and fictional characters, but right now, he's basically a younger Stiller on The Bachelorette -- though not an actor or director in real life.
During Becca and Chris's one-on-one date, Chris opened up about his childhood and growing up without a father and how being able to open up to someone is difficult for him. Like Becca explained, she knows what it's like to not have a parent in your life, since she herself lost her father to cancer when she was 19. Even though opening up during the first part of their date was difficult, Becca loved that Chris was able to open up later in the evening, and it earned him a date rose.
"Becca just has this calming aura around her and being able to open up and be vulnerable around her was a big step," Chris said in his interview after the date. So yeah, Chris is definitely a truly genuine guy who wants to see where things go with Becca. But can he not also look just like Stiller?
I mean, Stiller definitely isn't the worst celebrity to look like if you have to be their doppelganger. He's proven himself to be talented in a wide variety of movie and TV genres and he's even known for directing and writing, while being a pretty cool guy in real life, so if Chris has to be the twin of anyone, Stiller is a pretty good deal.
If Stiller ever needs the perfect 30-something guy to play him in a biopic, then Chris is obviously the perfect guy to fill the role, even if if he has zero acting experience of his own to speak of. He basically just needs to show up, look like himself, a.k.a. like Stiller, and the job is done. Their similar appearances are kind of scary, but also pretty amazing at the same time.
I'd be surprised if Chris hasn't heard it before, but fans can't seem to get enough of the fact that The Bachelorette contestant bears more than a passing glance to Stiller himself and as the season goes on, that's literally all I'm going to see. Again, it's not the worst thing in the world, but just incredibly uncanny and fans on Twitter seem to agree.
If Chris doesn't make it very far this season or win in the end, then I will be hoping and praying to The Bachelor gods that he's a part of Bachelor in Paradise because for some reason, I can't get enough of Stiller's legitimate lookalike.