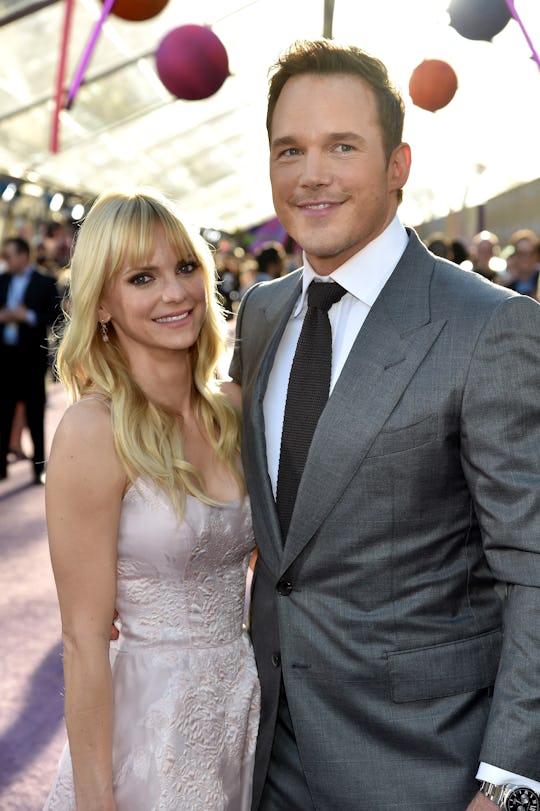 Frazer Harrison/Getty Images Entertainment/Getty Images
Chris Pratt Got Honest About His Divorce From Anna Faris, & His Thoughts Are So Relatable
When Chris Pratt and Anna Faris announced their divorce with identical social media statements last summer, fans were completely shocked, since it had seemingly come out of nowhere. While Faris was hounded with questions about the split during the press tour for her memoir, Unqualified, in the weeks just after the announcement, Pratt seemingly went underground. But now, Pratt has opened up about his divorce from Faris for the first time and it sounds like it's been hard. As anyone who's gone through a split, especially with a kid involved, can understand.
Pratt and Faris got married in Bali in 2009, according to Us Weekly, after meeting two years earlier on the set of the movie Take Me Home Tonight. Then, in August 2017, they announced that they were separating, emphasizing that they would still be friends and would co-parent their 5-year-old son, Jack, together.
At the time, according to E! News, Pratt was off filming Marvel Studios' Avengers: Infinity War and Universal Pictures' Jurassic World: Fallen Kingdom, which meant that he wasn't walking any red carpets or doing a lot of press. Faris, meanwhile, was promoting her memoir (which Pratt wrote the forward for) and handled tons of questions about the state of their family life. She never really said too much, but she definitely had to face it head on, just after going public with the news. Faris also addressed her divorce on her podcast, Unqualified, months ago.
Pratt, probably because of work, hasn't been as open. Though that seems to be changing, as he's started to post on social media more and recently sat down for an interview with Entertainment Weekly in which he got real about his thoughts on divorce.
Pratt said in the interview with Entertainment Tonight that divorce "sucks," plain and simple. He added:
But at the end of the day, we've got a great kid who's got two parents who love him very much. And we're finding a way to navigate this while still remaining friends and still being kind to one another. It's not ideal, but yeah, I think both of us are actually probably doing better.
Faris has also previously expressed frustration with dealing with divorce, so much so that she's sort of questioning the whole idea of marriage to begin with. She said during an episode of Dax Shepard's podcast Armchair Expert back in March:
I need to figure out what the purpose [of marriage] is. Is it safety for your children? Is it convention? Is it so other people respect your relationship more? For me, I'm just not quite sure where it fits, especially when it feels so easy to get married, and then there's like the untangling in terms of the state getting involved.
The untangling really can be the hardest part. As is waiting for some sign from the universe that you're doing the right thing. Faris said earlier this month in an interview with People that she and Chris are still taking it one day at a time. He said, "What Chris and I try to do is communicate openly. We reiterate that there aren't rules to this. We have a lot of love and friendship, and our big goal is to protect Jack."
Of course, all fans know about Pratt and Faris' relationship is what we read on the internet and see on their social media accounts, so who knows what their life is really like. But taking all of their statements together, it seems like it's been very tough and they're all just trying to get through with as much love and respect as possible. That's really all anyone can do in this kind of situation.
On one hand, having a child makes splitting up harder, since you can't just curl up in a ball and wait for the heartbreak to pass. But having that little person to take care of can make getting through the days a little easier, if only because they become your guiding light on getting through the mess of divorce, which is what both Faris and Pratt seem to be focusing on. Pratt is totally right about divorce sucking, but he and Faris seem to be doing something right. At least if Jack's adorable smile on Instagram is a sign of anything.
Check out Romper's new video series, Bearing The Motherload, where disagreeing parents from different sides of an issue sit down with a mediator and talk about how to support (and not judge) each other's parenting perspectives. New episodes air Mondays on Facebook.