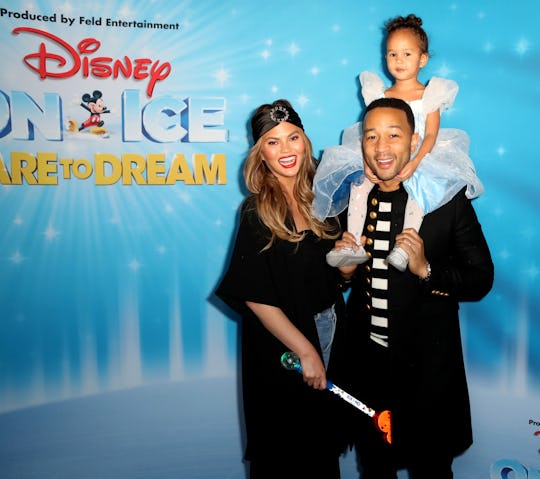 Ari Perilstein/Getty Images Entertainment/Getty Images
Chrissy Teigen Dressed Up As This Disney Princess For The Sweetest Reason
Oh, the lengths parents will go to for the sake of entertaining their children (toddlers in particular, since they tend to be the most demanding and have the shortest attention spans). In my lifetime as a mom I have pretended to be a television set where the kids can change channels and invent programs for me to act out. I have done this for more hours than I care to admit, maybe because I didn't have sweet costumes to don to make entertaining easier. Unlike Chrissy Teigen, who dressed as a Disney princess to entertain her 2-year-old daughter Luna Legend. And I'm here to tell you the results appeared to be lukewarm at best.
Much like all toddlers, Luna is apparently going through something of a phase with one particular movie. That phase is Aladdin, the classic Disney cartoon from 1992: As evidenced by Teigen's Instagram posts, Luna is all about Aladdin and Princess Jasmine and the Genie who helps them find love... but mostly she's all about Princess Jasmine. Fortunately for her, she has a mother who can pull off a costume fit for a princess better than most. At least better than I could, at any rate. Teigen shared a few pics of herself in full Princess Jasmine mode on Instagram on Friday. In the first pic, which the Lip Sync Battle star simply captioned "the things we do," the mom of two is sitting on the sofa watching the movie in her costume.
I mean, it's a pretty great movie so I can't blame Luna for loving it. And Princess Jasmine's blue-and-gold two piece outfit plus tiara is gorgeous... as evidenced by a second shot Teigen shared later in the day, with Luna looking not terribly impressed in her own Rapunzel princess dress from Disney's Tangled. Teigen captioned this photo, "all this and u can't even buy Aladdin on iTunes." So I guess no one is impressed.
Anyone following Teigen's social media (which I think might be everyone, everywhere) is probably well aware that this mom goes to hilariously great lengths to keep Luna entertained, so the fact that Aladdin has caught the toddler's attention is probably a huge bonus. At the beginning of December the Cravings: Hungry For More author shared a video of the family's nightly ritual; a duet between mother and daughter singing "A Whole New World" from the movie. Which both of them take very seriously.
It bodes well for Teigen that she is on board with going to great lengths to entertain a toddler. Because she and husband John Legend have another one coming along, 8-month-old baby son Miles, who will most likely benefit from his mother's expertise wearing costumes and fully committing to nightly sing-alongs. Although his mother did tell E! News that Miles tends to be a little more easy-going than Luna, so it might not be such hard work.
The truth is, actually hanging out with your toddler and playing with them in a way that feels real to them is genuinely fun... because being an adult is super boring. You barely ever need to wear a cape or a tiara and you have to eat things that taste bad and pretend to like them. It's way more fun to dress up as Princess Jasmine and dance for a day.
After a very frustrating first birth experience, this Deaf mother wanted a change. Will the help of two Deaf doulas give the quality communication and birth experience this mom wants and deserves? Watch Episode Four of Romper's Doula Diaries, Season Two, below, and visit Bustle Digital Group's YouTube page for more episodes.