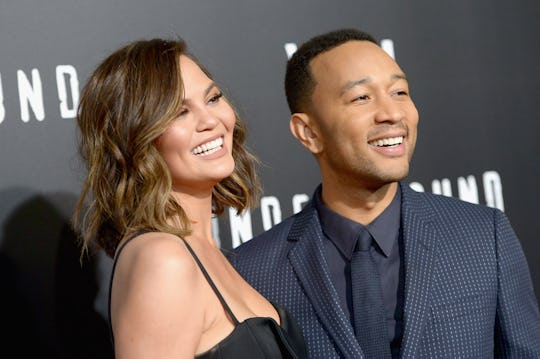 Charley Gallay/Getty Images Entertainment/Getty Images
Chrissy Teigen Can't Wait For Luna's First Birthday
In just a matter of weeks, little Luna Legend will turn 1 year old and her mama couldn't be more excited to celebrate the big day. And like many other new moms who want their little one's party to be as perfect as can be, Chrissy Teigen started preparing for Luna's first birthday two weeks ahead of her daughter's birthday, April 14, to make sure this special baby milestone goes off without a hitch. So which task did the 31-year-old celebrity mom tackle first? The cake, of course.
On Saturday afternoon, Teigen shared a photo of herself posing with a practice-run cake she decorated for Luna's birthday at Duff's Cakemix, a DIY cake decorating studio and bakery in West Hollywood, California. We all know Teigen is a master chef, but it turns out that she's also a boss at cake decorating, too. And she's got the photographic evidence to prove it because the two-layer pink and white cake covered in glittered polka dots and colorful sprinkles looks almost too cute to eat.
"Thank you @duffscakemix for teaching me to decorate a cake for Luna's upcoming bday!" Teigen captioned the photo of her standing with the finished product, which was topped with one candle. "I'll be back to do the real one soon! Get the sprinkles ready."
The cake looks incredibly divine with its intricate details that include colorful edges complete with little mint green fondant balls and white sugar pearls arranged around it. As beautiful and fun as this cake looks, Teigen was quick to shut down any potential mommy-shamers before they could critique any issues they saw with the tasty piece of art.
"Just a practice cake! No beads for the real one, don't freak out, fellow moms!" Teigen tweeted shortly after InStyle shared a photo of her with the cake.
Teigen is no stranger to mom-shaming and judgmental comments on social media, so her disclaimer to any internet trolls out there regarding her daughter's exciting day was very apropos. Hopefully that will have beat any and all potential shaming to the punch that could've put a sour spin on Luna's birthday later this month.
And thankfully, the mommy-shamers have since stayed their dark corner of the internet and her followers just loved her preemptive clap back and decided to have some sarcastic fun with it.
Celebrating your kid's first birthday is a big deal to a lot of moms. And Teigen seems to agree because if this practice cake is just a hint at what's to come for Luna's birthday, then it's definitely going to be incredible. But if anyone has a problem with any of it, it's clear that Teigen is ready, willing, and happy to shut it down right away.