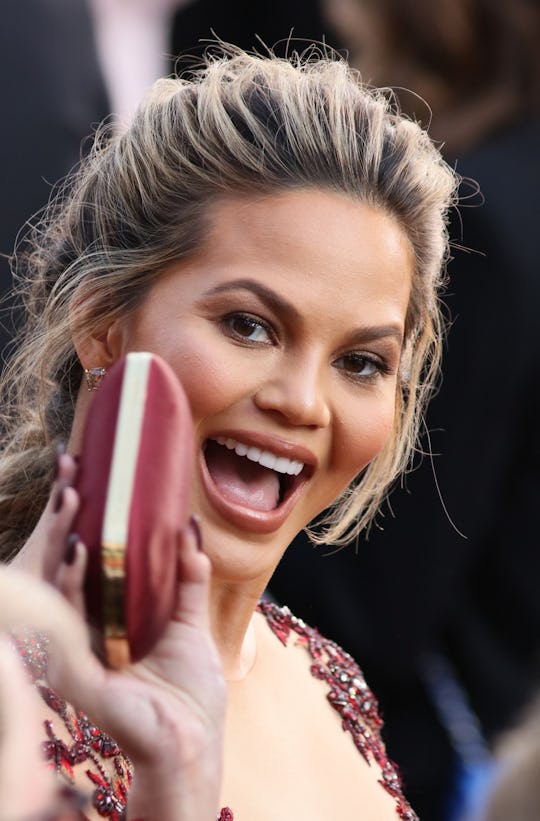 AFP/AFP/Getty Images
Chrissy Teigen Oscars Face Memes Guaranteed To Make Even The Most Serious Film-Buffs LOL
Why do we love Chrissy Teigen? Shouldn't we all "hate her because she's beautiful" like all of those super old shampoo commercials might lead us to believe? No, we shouldn't. First of all because it's 2016. But also because she is just so much like one of us. She likes eating food and being silly and hanging out with her girls. And I feel like, if one of us regular gals were going to the Oscars, we would pretty much be pulling all the same facial expressions — expressions that have subsequently spawned a series of hilarious Chrissy Teigen Oscars face memes, which we can all enjoy.
Teigen, a swimsuit model, sometimes actress and recent cookbook author, might get a bigger kick out of these gala events than anyone else I've ever seen, and why not? She just gets to hang out and take in the spectacle that is Oscar night and chill. She is married to R&B singer John Legend, whom she seems to completely adore in the most unaffected way possible. And I'm going to go ahead and say it again: she is just so completely down to earth. So much so that when she sees something a little bit ridiculous, she doesn't really bother controlling her face and it comes out looking like this:
Legend went on to explain what the famous Teigen face was really about.
An awkward moment at the Oscars with (slightly) awkward girl of the moment Stacey Dash, and a joke that fell... well, not flat. Just weird. Who wouldn't make a face?
This isn't the first time Teigen has treated us to an interesting, buzz-worthy face. Remember last year when her husband John Legend was on stage performing his Oscar winning song Glory (Best Original Song) from the movie Selma? Teigen was so overcome with emotion and she totally didn't care that the whole world was exposed to her crying face, even if they decided to meme it later.
On Sunday night, social media was rife with plenty of excellent "Chrissy Face Memes", once again:
And what does everyone else think of her faces? That she looks exactly like the rest of us. OK, maybe some of us were sitting on the couch in our sweats making that face. And not looking like Chrissy Teigen. But still, samesies.
So here's to you, Chrissy Teigen. Never a dull moment with you. Twitter thanks you.