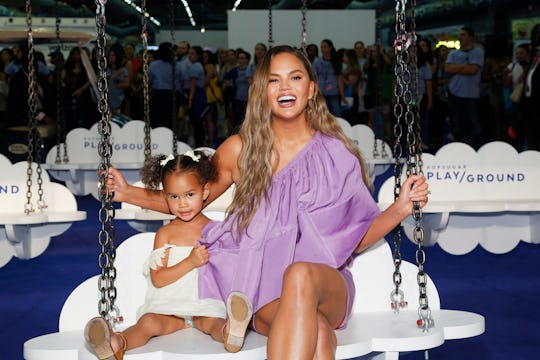 Lars Niki/Getty Images Entertainment/Getty Images
Allow Chrissy Teigen To Give You Life With These 16 Quotes About Motherhood
By now everyone knows that Chrissy Teigen is the queen/goddess/high priestess of social media. I mean, you do know that, right? The multi-talented model/television personality/cookbook author (NY Times bestseller, thank you very much) who has a combined 37 million followers on Instagram and Twitter suffers exactly zero fools in her posts about everything from her marriage to her political leanings. But it's Chrissy Teigen's quotes about motherhood that have all of us fellow mamas standing up and cheering, or at least giving her an enthusiastic "like" or retweet.
I think what I love most about Chrissy Teigen's musings on motherhood is the fact that even though her life is pretty different than most of ours (I mean, hello, she's married to John Legend), her posts are completely relatable. Wait a minute... could it be true? Are stars really just like us?
Regardless, all I know for sure is that I cannot get enough of Chrissy Teigen and the fact that I am actually getting paid to scroll through her feed and bring you this round-up of her most relatable and hilarious thoughts on all things motherhood (in chronological order no less) is all the proof I need that I am, in fact, living my best life.
But enough about me. All Hail the Queen, and may her reign over social media be long and hilarious.