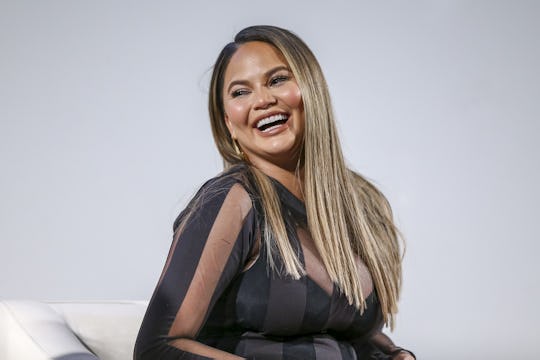 Rich Polk/Getty Images Entertainment/Getty Images
Chrissy Teigen's Most Gorgeous & Realest Breastfeeding Photos Perfectly Capture Motherhood
When it comes to posting on social media about pregnancy and parenthood, Chrissy Teigen has no filter (in the best way possible). Amongst her adorable family photos and hilarious tales, the newly-minted mother of two has shared a slew of breastfeeding photos, ranging from oh so relatable to just plain hilarious. In honor of World Breastfeeding Week, now seems like the perfect time to reminisce over some of Chrissy Teigen's best breastfeeding photos.
Aug. 1 through Aug. 7 marks World Breastfeeding Week, an annual campaign by the World Alliance for Breastfeeding Action. This year, World Breastfeeding Week aims to promote breastfeeding as a "foundation of life" that can help reduce poverty, according to the organization's website.
Teigen and her husband John Legend welcomed their first child together, a daughter named Luna, on April 14, 2016, E! News reported at the time. Just one month later, in mid-May, Teigen opened up about breastfeeding Luna in an interview with Entertainment Tonight. "The feeding schedule surprised me a lot ... If you kind of do the math, you're kind of breastfeeding for 10 hours a day total," she told the outlet. "It's very loving and sweet, but it's not easy ... It's hard to work your entire day around getting her the nourishment she needs because they are just little animals."
The positives must have outweighed the negatives for Teigen, because a few weeks later, she was still breastfeeding Luna. In early June, the new mama made headlines for a few Snapchats where she breastfed Luna sans cover or shirt, as the Daily Mail reported.
That same week, Teigen attended the NBA finals, because Legend was singing the national anthem, InStyle reported at the time. Teigen shared a Snapchat of herself breastfeeding Luna from somewhere backstage at the stadium.
Teigen and Legend welcomed their second child, a baby boy named Miles, on May 16, 2018, Us Weekly reported. Since then, Teigen has gotten even more creative with her nursing pictures. A few weeks later, in early June, Teigen implied that she was breastfeeding Miles with a post to her Instagram Story. She shared a picture of the inside of her breastmilk-stained bra, captioned with a very eloquent, "NooooOOOOooooOO."
About a month later, Legend shared a tribute to his wife for nourishing their son. On Father's Day, he posted a goofy selfie of the couple in the car, in which Teigen was pumping breast milk. "I know it's Father's Day and all but my wife is pretty awesome," Legend captioned the shot. "She's taking me to dinner but still on mommy duty."
In July 2018, Teigen shared her first breastfeeding picture with baby Miles — and with another baby who fans had never seen before. "Luna making me feed her babydoll so I guess I have twins now," Teigen captioned a picture of herself nursing Miles and pretending to nurse one of Luna's dolls. Classic.
Shortly after, Teigen posted a closeup shot of Miles to her Instagram Story. In the photo, it's hard to tell, but it seemed like Miles was resting on Teigen's breast.
The photo caused some controversy online, and, Chrissy Teigen being Chrissy Teigen, she tweeted the perfect responses to her haters. "I don't care to see grainy fireworks, Coachella selfies or infinity pool pics but I let people live, Teigen tweeted to one critic who has since deleted their tweet. "Calm your tits and scroll on by."
"Nah. Just chillin. Posting daily life like I do with anything else," Teigen responded to another troll who has also deleted their tweet. "Cooking, playing with dogs, etc. You make feeding a baby big deal because you got weird titty issues." YASSS, CHRISSY.
In late July, the fabulous Legend-Teigen family went on a luxurious trip to Bali, Indonesia. While on the vacation, Teigen posted a photo of herself lounging outside (on what seemed to be a private deck) in the nude, reading a book, and breastfeeding baby Miles.
Please keep all the adorable baby Miles and relatable mom content coming, Chrissy!