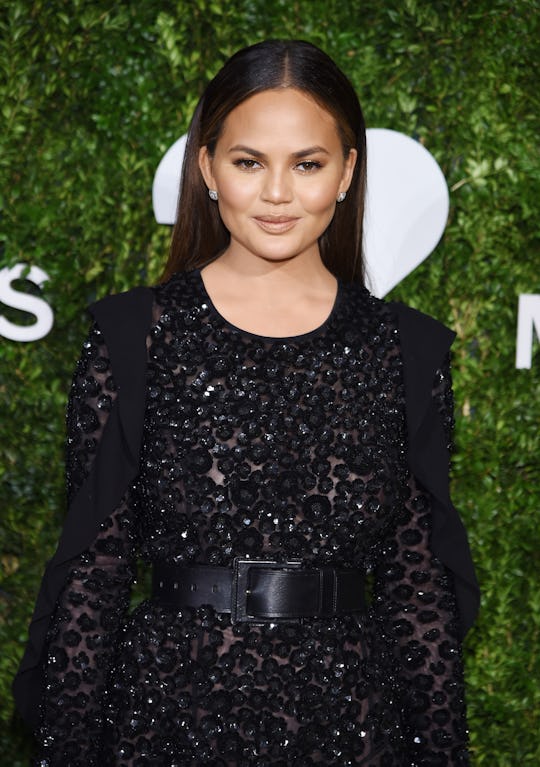 Dimitrios Kambouris/Getty Images Entertainment/Getty Images
Chrissy Teigen's Message For Donald Trump Is What We All Want To Say Right Now
Not everyone loves Chrissy Teigen, but they should really try. She is ballsy, and I love me a ballsy lady. But beyond being ballsy, she actually gives a crap about what's going on in the world today. She's passionate about her belief system, and isn't afraid to call out nonsense when she sees it. Especially if that nonsense is being spouted by newly-minted President-elect Donald Trump. After taking her Twitter feed off private on Saturday, Teigen delivered a series of messages to Trump to call out his outrageous double standards. Because when you have an audience of millions, particularly younger women who look to you as a voice of reason... you use that platform to make a difference. No matter what.
Model and cookbook author Teigen has long been a vocal opponent of Trump's throughout his campaign. During the 2016 presidential election, when President-elect Trump and his supporters were calling Democratic presidential nominee Hillary Clinton a "supervillain", Teigen (who endorsed Clinton) clearly had no time for it, as evidenced by this Tweet:
Seriously? She is not evil. She has spent most of her life helping others, devoted to public service. Don't be dramatic and insane.
After Vice-president elect Mike Pence (a staunch conservative and verbal opponent to the LGBTQ community) was not only booed during an appearance at the Broadway musical Hamilton, but also addressed by the Hamilton cast in a heartfelt plea for consideration of all Americans, both Teigen and Trump took to Twitter to react.
Trump, who I'm pretty sure is supposed to be busy training to be president (since he has zero experience), Tweeted:
The term "safe space" has been a notable rallying cry since Trump won the election on Nov. 8, as people who might not fit into Trump's potential vision of a "Great America" worried about how they might be treated by Trump supporters. New York declared itself a safe space, for instance, as have other communities across the country in the wake of the election.
Trump hijacked the liberal term (which has been around since the Sixties) for his own use. And Teigen was like, oh hell no.
Teigen, who is married to singer John Legend and is mother to precious baby Luna, was not going to let the hypocrisy of Trump throwing a social media tantrum because people (who were performing in a show about one of America's founding fathers, Alexander Hamilton, it should be noted) dared to ask for, as she put it, "Four years of peace."
She stands up for what she believes in, and what she believes in makes total sense to me. She's multi-talented, intelligent, honest to a fault, and pretty damn hilarious.
I don't think I'm ready for four years of Trump. But four years of Teigen?
Totally in.