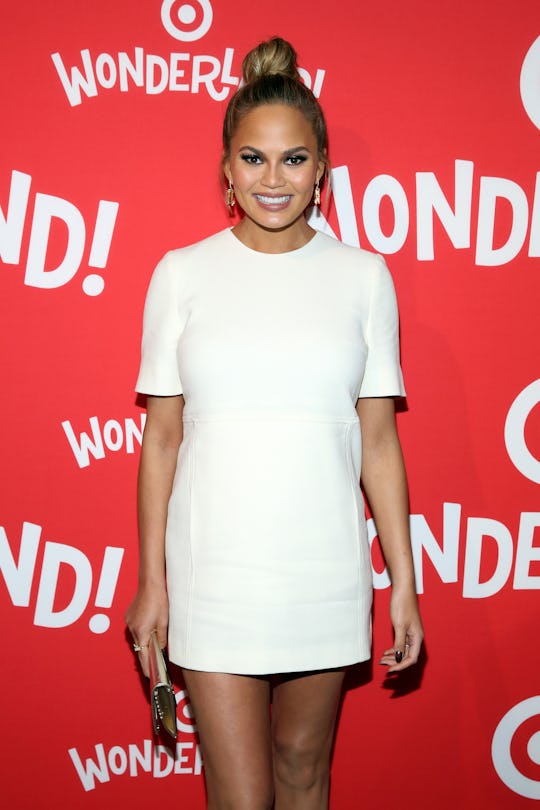 Cindy Ord/Getty Images Entertainment/Getty Images
Chrissy Teigen's Newest Luna Photo Is Practically A Work Of Art
One of the newest celebrity babies on the block has yet another photo to add to her baby album. Chrissy Teigen's latest photo of Luna is just one of a number of adorable photos the model has shared of her one-month-old daughter on social media. This newest photo of Luna comes just two days after Teigen posted a family shot of them walking down the street with husband John Legend wearing Luna in a baby carrier. (For those of you wondering about the brand of baby carrie, it looks like it's an Ergobaby Four Position 360 Baby Carrier in grey — and it'll set you back about $160.) Teigen playfully captioned the photo "Get it, dilf!!"
As a new mom, she has been under the world's gaze as she's publicly chronicled new motherhood on her Instagram feed. In April, Teigen and her husband received plenty of unnecessary Internet flak when the pair were spotted by paparazzi having dinner out — sans baby *gasp!* — when Luna was less than two weeks old. And, just this month, the 30-year-old model again faced criticism from the Internet when she posted on Instagram for her first Mother's Day, in which she dared to wear a crop top *gasp!* that showed off her post-baby body — oh the shock and horror!
Here's hoping this latest mama and baby photo doesn't stir up a whirlwind of Onternet backlash — and honestly, how could it? It's so flipping cute and really quite beautifully composed:
Teigen reposted the photo from her husband's Instagram account, sharing it without a caption — and honestly, it doesn't need one. I think the beautiful simplicity of the composition speaks volumes, capturing mother and baby in a style reminiscent of Madonnas (think Renaissance, not the Queen of Pop).
And because who doesn't love baby photos... here are four more adorable Instagrams of baby Luna to bring a smile anyone's face.
"hi my lulu!"
Luna Simone was born on April 14 and made her Instagram debut at just five days old in this again Madonna-esque photo of Tiegen and her daughter, with a special cameo by one of their four dogs. It was captioned simply with "hi my lulu!" The sheer joy and tenderness captured in Luna's first photo is a feeling that every new mom can relate to: That feeling of overwhelming reverence and wonder for a newborn baby.
Bright-Eyed Baby
Legend is certainly one proud papa, sharing this photo of Luna as her first pic on her father's Instagram account. Not only do we get to see little Luna's head of hair, but fans finally got to see her face.
"Happy 1st Mother's Day!"
Another photo from the proud papa, this time captioned with a sweet tribute to his wife on her first Mother's Day: "To my wonderful wife,@chrissyteigen. Luna and I are so lucky to have you in our lives. If our daughter can be even half as awesome as you, I will be so happy and proud. Happy 1st Mother's Day!"
That "DILF" Photo
Believe it or not, this photo from Teigen's Instagram feed caused another round of Internet hate on the new mom when some commenters claimed that Teigen didn't want a baby carrier to cramp her fashion sense. Frankly all I see is a super-engaged father and partner who understands that baby carriers can be uncomfortable as all get out with engorged boobs and perhaps is lightening the load for the breastfeeding mama. Legend posted a similar pic of himself wearing Luna in her baby carrier to his Instagram account on Tuesday.
All of these photos make it very clear that the parents are enamored with baby Luna, and they aren't going to stop showing her off.