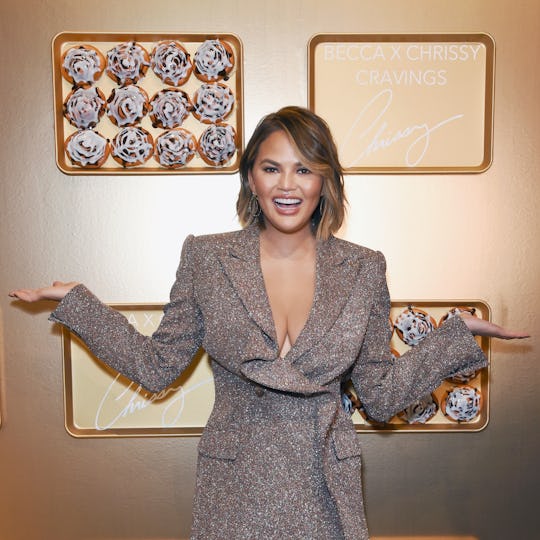 Presley Ann/Getty Images Entertainment/Getty Images
Your Thanksgiving Table *Needs* Chrissy Teigen's PB & Chocolate Blondie Dessert
Thanksgiving rocks as a holiday, no question. You can't go wrong with a celebration that demands that we eat a zillion calories' worth of carbs, then collapse into a blissful coma in front of the TV. But can we please be honest with ourselves and admit that pumpkin pie doesn't do it for us as a dessert? (I just helped host a pie-baking event, and people actually left the pumpkin pies behind.) But Chrissy Teigen's peanut butter chocolate chip blondie recipe... now that's the way to end a Thanksgiving feast.
Chrissy Teigen is one of those rare celebs who's super-accomplished, yet relatable; who has a pretty perfect life, and yet, oddly, you don't hate her for it. Maybe it's because she doesn't pretend to be a goddess, even though she's famous, beautiful, wed to John Legend and mom to two adorable children. Maybe it's her willingness to stand up for others (as Vogue reported, Teigen offered to pay any fine owed by Olympic gymnast McKayla Maroney for breaking a nondisclosure agreement and testifying against the team doctor who sexually abused her teammates.) Maybe it's because she writes some pretty funny tweets (although a certain POTUS doesn't necessarily agree).
Or perhaps it's because she's a supermodel who isn't afraid to get real about topics like her IVF journey, her "mom bod," and her love of foods that supermodels aren't even supposed to look at. Even her cookbooks celebrate her unashamed indulgences. Cravings: Recipes For All The Food You Want To Eat ($18, Amazon) was a huge hit, and her recent sequel, Cravings: Hungry for More ($20, Amazon), made the New York Times' Best-Seller list. As well it should. With recipes like "Spice-Rubbed Parmesan Chicken Breasts" and "Braised Short Ribs With Maple Brown-Butter Sweet Potato Mash," you know you're not expected to count any eating-plan points.
Know what isn't in her cookbook? Pumpkin pie. Know what is? This amazing buttery-chocolatey-peanutty-blissful dessert, which is super-simple to put together and cooks in a skillet that you can bring right to the table. Put this bad boy on your Thanksgiving table, and your guests will skip right over the been-there-done-that pies and line up for wedges of blondie. Maybe you'd better make two batches, come to think of it. After all, there's a long weekend ahead.
Skillet Peanut Butter Chocolate Chip Blondies
Serves 8-10
Ingredients
1 stick (4 ounces) butter, slightly softened, plus more for the skillet
2/3 cup crunchy peanut butter*
3/4 cup (packed) light brown sugar
2/3 cup granulated sugar
1 teaspoon vanilla extract
2 eggs
1¼ cups all-purpose flour
1 teaspoon kosher salt
2 teaspoons baking powder
2/3 cup peanut butter chips
2/3 cup chocolate chips (milk or dark)
Vanilla ice cream, for serving
* Supermarket style; rhymes with dippy or spliff
Directions
Preheat the oven to 350°F. Generously butter a 10-inch cast-iron skillet.
In the bowl of a stand mixer fitted with the paddle attachment, beat together the butter, peanut butter, brown sugar, and granulated sugar until creamy, scraping down the sides of the bowl if you need to, 1 to 2 minutes. Add the vanilla, then beat in the eggs one at a time, waiting until the first is incorporated before adding the second. In a small bowl, whisk together the flour, salt, and baking powder. Turn off the mixer before adding the flour mixture, then beat until just combined. Mix in the peanut butter chips and chocolate chips.
Spread the batter into the skillet and bake until the outside is a little golden on the edges but the center is still soft and gooey, 40 to 45 minutes (it may seem undercooked when it comes out of the oven, but it firms up as it cools). Cool in the pan and cut into wedges or any shape you want. Serve warm with vanilla ice cream, or completely cooled.
Reprinted from Cravings: Hungry for More. Copyright © 2018 by Chrissy Teigen. Photographs copyright © 2018 by Aubrie Pick. Published by Clarkson Potter, an imprint of Penguin Random House, LLC.