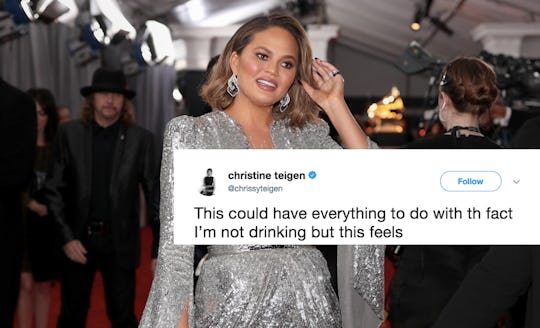 Chrissy Teigen's Super Bowl Tweet Will Probably Make You Say "Same" Very, Very Loudly
Maybe you won't be able to relate. Maybe you're holding a nice cold beer or a hardy glass of wine right this very second. Or, maybe you're pregnant, abstaining, or simply not a big fan of drinking, and you can absolutely relate to Chrissy Teigen's Super Bowl tweet. If you're part of the latter group, well: I'm sorry. I'm really, truly sorry. And, apparently, so is Teigen.
The 32-year-old model, mogul, and Twitter-goddess announced her second pregnancy in Nov. 2017, via an adorable Instagram video that showed Teigen talking to her daughter, Luna, and asking her, "What's in there?" while Teigen pointed to her stomach. Luna, in response, said, "Baby!" I mean, how cute is that? Cute, to be sure, but pregnancy isn't "cute" in many respects, as Teigen pointed out via Twitter on Feb. 3 of this year. "This baby is sucking the life from me. Drinking my water, making me dry. Eating my food, making me hungry. Taking my health, making me sick," Teigen tweeted. "Why do we create these monsters they want us dead?"
And, apparently, the fetus is also making it more than difficult for Teigen to enjoy the Super Bowl and, perhaps, even the Super Bowl halftime show. Whoops?
Teigen has been known to follow football, and particularly the NFL, rather closely. On Nov 24, 2017, Sport's Illustrated dubbed Teigen "the football guru Twitter needed" during a game between the Washington Redskins and the New York Giants. During the game, Teigen sent out a number of Tweets, including one that read: "this football field has garbage grass. follow me for more sports hot takes." NBC Sports pointed out that Teigen gave some on-the-nose commentary prior to Mark Bullock, who covers the Washington Redskins for the Washington Post, prompting Teigen to remind NBC Sports, and the world, that she doesn't even know what a "pick 6" is. (For the record, a "pick 6" is an interception carried back for a touchdown. A pick, and then, six points.)
But now, on Super Bowl LII, Teigen wasn't impressed. With what, we don't know for sure. Perhaps the game itself wasn't to her liking. Then again, the so-called underdogs, the Philadelphia Eagles, were leading the heavily favored New England Patriots 22-12 at the half. Tom Brady had thrown for over 400 yards before the third half ended, while Nick Foles threw for 215 yards, one touchdown, one interception, and had an 88.3 rating by halftime. That's not, well, a really "boring game."
Maybe it was Justin Timberlake's halftime show, which many-a-viewers weren't too pleased about, especially after Timberlake decided to perform with a projection of Prince; a move that, to many, felt like a blatant disregard for the late, great, iconic singer's wishes.
Or maybe, just maybe, it's pregnancy itself. As a former pregnant person, I can tell you that growing another human being inside your body is far from easy. In fact, it's often times annoying, uncomfortable, frustrating, disgusting, taxing, and grueling, all at once and for a long, long period of time. And that, among other things, is why Teigen is so relatable. She doesn't sugarcoat the parts of pregnancy, motherhood, and even Super Bowl-watching that others would rather pass off as "beautiful."
So, no: Teigen isn't enjoying the Super Bowl right now. She's pregnant, she's sober, and she's not going to pretend she's having a wonderful time watching two teams hit one another multiple times, over and over again, with the hopes that they can take a (admittedly, amazingly cool and historic) trophy home. Maybe next year's Super Bowl will be more enjoyable for the soon-to-be mom of two.
Check out Romper's new video series, Bearing The Motherload, where disagreeing parents from different sides of an issue sit down with a mediator and talk about how to support (and not judge) each other's parenting perspectives. New episodes air Mondays on Facebook.