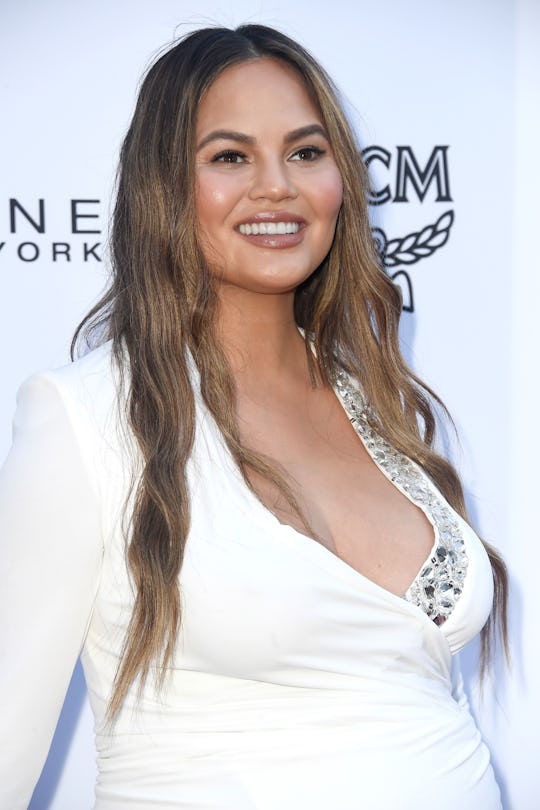 Frazer Harrison/Getty Images Entertainment/Getty Images
Chrissy Teigen's Tweet Announcing Her Son's Birth Has The Internet Jonesing For More Info
Leave it to Chrissy Teigen to remind us all that while the royal wedding might be days away, she's the Queen of Twitter. Late Wednesday night/early Thursday morning Teigen stole the proverbial show, and Chrissy Teigen's tweet announcing the birth of her son was simple, to the point, and so cute you just can't help but be excited for the now-family of four.
The tweet came at 1:23 a.m. on the morning of May 17, and left much to the imagination. A simple, "Somebody's herrrrrre!" followed by bottle and babies emojis, was all it took to let the world know that her baby boy, and second child, had arrived. According to People, the tweet (and Teigen's son's birth) came just weeks after Teigen "declared she was over being pregnant," so while the free world doesn't know the child's name, birth weight, or has seen a picture of the newborn, we all know one thing for sure: the kid has fantastic timing, and his mother was oh-so happy and very ready to finally welcome him to the world.
Teigen has a 2-year-old daughter, Luna, with singer John Legend, who Legend said at the Tribeca Talks event at the Tribeca Film Festival was "going to be a problem." He explained further, telling Sara Bareilles, "I think she'll probably have some growing pains because she's currently running the house right now. She's used to being the center of everything right now so we'll see how she adjusts to sharing the spotlight."
Teigen announced she was pregnant back in Nov. 2017, and in arguably the most adorable way ever. Via a cute-as-hell Instagram post, featuring Luna, Teigen wrote, "It's John's!" and, in the video, asked her daughter what was "in her tummy." "Baby," Luna replied, and well, the rest was Teigen baby number two history.
Throughout her pregnancy, Teigen has been incredible open, honest, and unapologetically candid about the trials, tribulations, and fears of being pregnant while simultaneously caring for a toddler. From speaking out about the high chance that she will, once again, face postpartum depression, to how quickly a pregnant person gets "bigger" the second time around, for anyone going through their second pregnancy, Teigen has been a source of inspiration, solidarity, and hope. In Feb., Teigen told celebrity hairstylist Jen Atkin of the possibility she'd suffer from postpartum depression a second time, "Do I worry about it with this little boy? I do. But I also know that when it does happen — if it does — I'm so ready for it,"
And now that her son has officially arrived, Twitter and Instagram users are sure to be on the receiving end of more hilarious, down-to-earth, #RealMom candor that will make all of us parents, regardless of our situations, feel a little less alone.
During an appearance on the Ellen Show three months ago, Teigen "hinted" at some potential baby names for her second child. And, true to form, the possibilities were hilarious. "I've been toying with Dick Legend a lot," Teigen said, laughing along the way. Moments later she decided "Richard Legend" might be more appropriate. Teigen did stress, however, that her and her husband were not going to be naming their son John Legend, Jr., regardless. "Everyone's like, 'Why don't you do the JJ thing? The John Jr.'" Teigen added. "But John and his ego... he was like, 'I don't want him to feel like he has to live up to that.' And I was like, 'Wow, you are a jerk!' What a jerk!"
While the Teigen-loving universe is still waiting for more details on the family's newest arrival, one thing is for sure: the baby, just like his mom, sure knows how to make an understated but talked about entrance.