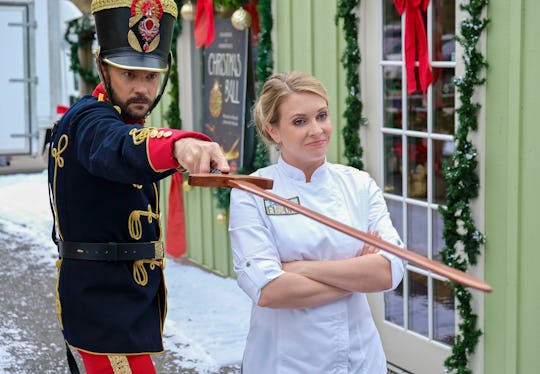 Lifetime
There's Nothing Like Christmas Romantic Comedies To Get You Through A Breakup
Christmas isn't necessarily a romantic holiday to rival Valentine's Day, but it does have a certain air about it that makes you want to have someone to cuddle with in front of a crackling fire. It certainly doesn't help that romantic TV Christmas movies are suddenly *the* thing to watch during the holiday season. But there are a few choice Christmas romantic comedies to get you through a holiday breakup if that's what you need. Or maybe you just love romantic Christmas comedies, and I can't really fault anyone for that. Where kids might have their Rudolph or Frosty the Snowman holiday staples, made-for-TV Christmas romance movies are now the thing for grownups to watch during the holidays.
Sometimes, these movies can give you hope that there's more love out there and more fish in the sea of awful dates and awkward Tinder encounters. And nine times out of 10, the heroine in romantic Christmas comedies has been through what you're going through. So you can live vicariously through her triumphs as you mourn the loss of a relationship during the holiday season.
Like the upcoming LeAnn Rimes Hallmark movie, It's Christmas, Eve, for example, about a music teacher and superintendent who are neighbors and seem unlikely to fall in love but obviously do. Or Netflix's Merry Kissmas, about a woman who has to go through plenty of terrible relationships before she finds the right one. It's almost actually realistic in that way — imagine that. It's no fun to suddenly be without a significant other during the holidays and sometimes, all you need is the right Christmas romantic comedy to help you through it.