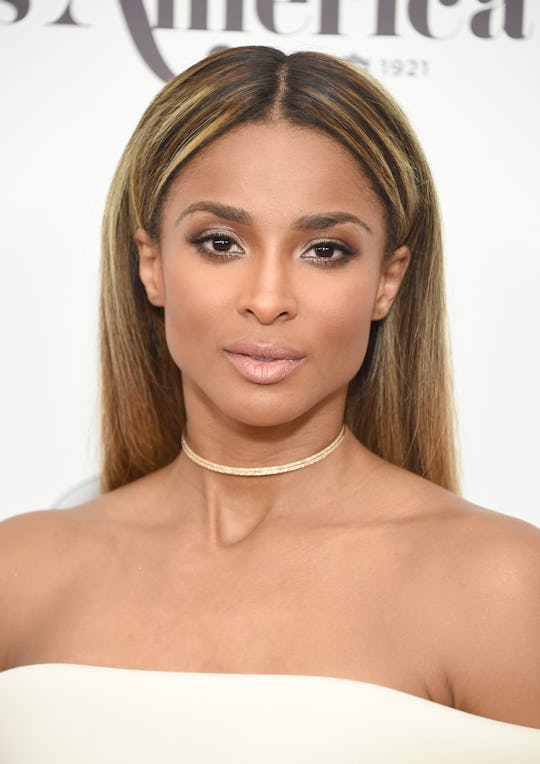 Michael Loccisano/Getty Images Entertainment/Getty Images
Here's Pregnant Ciara's Whitney Houston Tribute
Anyone who stayed in refreshing their Instagram feed on Saturday night got a real treat: a beautifully choreographed video of a very pregnant Ciara dancing to Whitney Houston at home. It was both a tribute to the late pop star, who died five years ago on Feb. 11, and a celebration of the R&B singer's own growing family. With her lip-syncing rendition of Houston's version of "I'm Every Woman," Ciara delivers an empowering vignette that shows off her outrageous dance moves and seemingly endless energy — not to mention her adorable baby bump.
The 54-second video opens with the chart-topping "Goodies" singer cranking up the Houston classic on her iPhone, using a wooden spatula to mouth the lines "Anytime you feel danger or fear/Then instantly I will appear," expertly leaping onto a couch, and breaking into a choreographed dance routine in the dining room. Along the way, she kisses her 2-year-old son and struts past her husband, Seattle Seahawks quarterback Russell Wilson. It's an impressive tour de force, but especially breathtaking given that the 31-year-old will very soon be a mother of two.
Oh yeah — and Houston herself was pregnant with her daughter Bobbi Christina Brown when she filmed the original "I'm Every Woman" video in 1992, BuzzFeed News reported. It's perfect symmetry.
And Ciara has been open about her admiration for Houston, who died unexpectedly in 2012 at the age of 48. "Her legacy will live on forever and if I can do anything in my power, I will continue to let my generation know about her," she told BET's 106th and Park at the time, according to E! News. With the epic Saturday night video, she certainly did that — while still adding her own flavor, spunk, and cast of characters into the mix.
Ciara and Wilson married in a castle ceremony in England last year, forming a family of three with Ciara's son, Future Zahir, whose father is her ex-fiancé, the rapper Future. And in October, she and Wilson revealed in yet another sweet Instagram post that they were expecting their first child together. "I'm excited to Finally share one of the Greatest Gifts of All that God could give," she captioned the photo, which featured the two cuddled together and cradling her belly. The singer punctuated the caption with a line of sweet baby emojis and hearts.
As the latest addition to her already robust Instagram collection (seriously, check out the adorable video of Future Jr. swimming) shows, Ciara and her family are thriving. She just seriously amped up her fans' anticipation to meet the new baby, and she definitely showed she still has the acumen as an entertainer that we love her for.