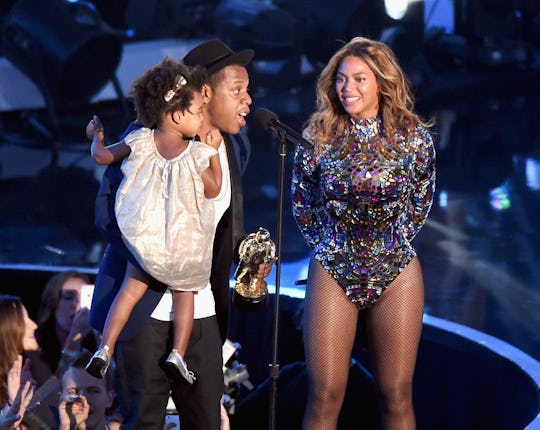 Michael Buckner/Getty Images Entertainment/Getty Images
Twitter Has Some Beyoncé Baby Name Ideas
Is your heart still racing from the news that the world is being graced with not one, but two babies from Beyoncé and Jay Z? Yea, mine too. We don't have many details about her due date or whether they'll be part of what one can only assume is Destiny's Child 2.0, but the BeyHive is already looking for clues about what Beyoncé's twins' names might be — because, seriously, this is the most welcome distraction from the flood of political news and pleas to call your senators that is currently taking up space in your social media news feed.
We need Beyoncé's children right now. They're a sign that true love actually exists — remember, Lemonade showed us that Bey and Jay Z had a rough time for a while — and cute little babies wearing haute couture, posing with Blue Ivy are coming.
The Carter twins are coming. Most likely, they will have glorious names, just like Blue Ivy does. Although many seem to think that the first Carter baby's name is a sign that Beyoncé and Jay Z are in the Illuminati, and means, "Born Living Under Evil, Illuminati's Very Youngest." Which, you know, is definitely not true since Beyoncé herself has hinted that her daughter's name was inspired by a 2005 novel by Rebecca Solnit's called A Field Guide to Getting Lost, or that it's Jay's favorite color.
So it's anyone's guess what they'll name the next two, but Twitter has some ideas. Currently, the mainstream guesses include mentions of plant names, similar to Blue's, or color names. Or Destiny's Child names.
All joking aside, the names will probably be really pretty and very meaningful. More importantly, you know they'll be interesting, because you can't have one child named Blue Ivy (of all the glorious things) and name the next ones, like, Bob or Jane. Not that there is anything wrong with those names, they just aren't as extra as whatever else the two artists come up with. If Beyoncé's Lemonade album is any sign, with all the symbols and feels, the two names will probably go with each other and be some uplifting spiritual message (or that's my guess, anyway).
Who knows? Maybe the key is in the Instagram announcement herself. Beyoncé wrote, "We would like to share our love and happiness. We have been blessed two times over. We are incredibly grateful that our family will be growing by two, and we thank you for your well wishes." Could they be Love and Happiness? Or maybe, since people on Twitter seem to believe that Ivy is a reference to the Roman numeral for "four" (the day of both Beyoncé and Jay Z's birthday), they'll give "Ivy" to each child and just new first names — or they could go traditional, fool us all, and name them after themselves or someone in their family.
The options are endless. Luckily for the rest of us, Twitter is more than happy to do the digging.