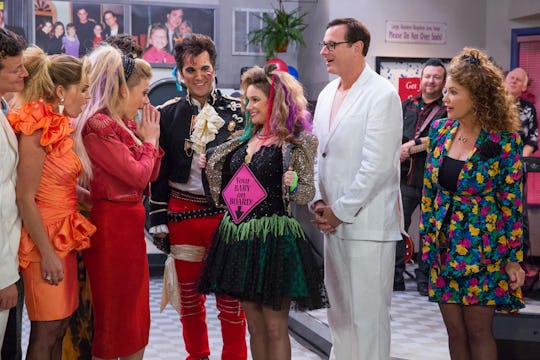 Mike Yarish/Netflix
Here Are The Biggest Clues About When 'Fuller House' Will Return For Season 4
Every season, it seems like as quickly as a new season begins, it's gone. As in, you've binged an entire season of Fuller House in one sitting and now you have to wait months, potentially up to a year, before the next season premieres on Netflix. As of right now, there has been no official announcement about Season 4's premiere date, but there are some clues about when Fuller House will return for Season 4 to help fans get through this very dark hour.
The cast is notoriously close knit in real life, and when they were gearing up to film Season 3 Part 2, they were quick to post Instagram photos with each other. Even after filming was over, they continue to share images of them as a group or old school photos from back in the day. If the show was nearing any kind of cancellation, I highly doubt that the actors would still be in such high spirits, right?
As a whole, the series has had some pretty steady premiere dates, choosing to either return in the fall or winter. So since it premiered on Netflix in 2016, there's never been more than 10 months between seasons, which really speaks to how much viewership the show must be getting if Netflix keepings bringing it back so often.
Although there hasn't been an actual announcement just yet, I think it's safe to say that everyone's favorite growing TV family will be back sooner rather than later, especially given the history of its premiere dates. Plus, the cast and crew themselves are already talking about Season 4, which makes you hope that there are many more episodes and seasons of this series to come in our near future. But just in case you're still feeling a little uneasy, here are some helpful clues that Season 4 isn't too far away.
Fernando (Juan Pablo Di Pace) Is Ready For Season 4
During a recent Twitter Q&A session put on by Juan Pablo Di Pace, who plays Fernando, a fan commented that they hope to see more of Fernando in Season 4, to which he replied, "Thank you!! Let's get that season 4 trending." While this doesn't say exactly when Fuller House Season 4 will return, it does show that the cast is excited and ready to tackle more seasons ASAP.
Jeff Franklin Already Has Plans For The Show's Future
Series creator Franklin spoke to TVLine about D.J.'s remark in the Season 3 finale regarding Steve Urkel and said that the writers have actually tossed around some ideas about including the '90s icon in a future episode. Once again, this shows how the gears have already started moving about Season 4, so it can't be that far away, right?
Things Were Left Very Open-Ended
So much was left up in the air when Season 3 ended. Kimmy is now pregnant with Stephanie and Jimmy's baby; the rest of the Tanner family is moving back to town; and D.J. and Steve will soon start their relationship back up. Sure, this can all be picked back up regardless of how much time passes between now and Season 4, but with so many open-ended storylines, it would be in the show's best interest to not wait too long, lest some fans forget some of the more important details.
Netflix Has Put A Lot Of Money Into The Show Already
Sending an entire cast and crew to Japan to film a half hour show in its third season would sound like a pretty big gamble for any network or streaming platform. But since Netflix was quick to foot the bill for this extravagant filming location, it shows how much faith has been put into the series. And to the same tune, it also shows that Netflix would be smart to keep this gravy train rolling, rather than stop or delay it any longer than it needs to be.
There's no denying that Fuller House can last well beyond the eight seasons that the original ran, so the smartest thing to do would be to stick with the consistent schedule of putting out a new season every 10 months or so. If that happens, then Season 4 should be here near the end of 2018 to pick up where everything left off.
Check out Romper's new video series, Romper's Doula Diaries:
Watch full episodes of Romper's Doula Diaries on Facebook Watch.