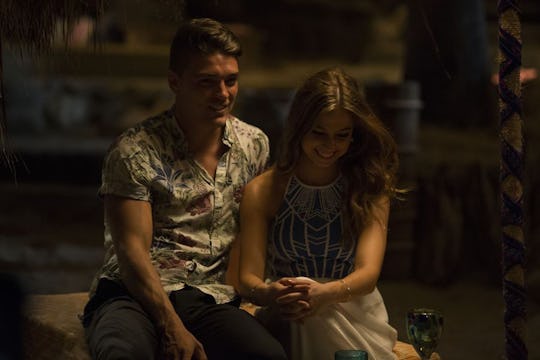 Paul Hebert/ABC
Clues That Dean & Kristina Are Still Going Strong After 'Paradise'
Tears are nothing new on Bachelor in Paradise, but Kristina has shed so many over Dean this season that it's made fans look at him in a way that doesn't suggest he's the sweetest and purest thing in Bachelor Nation. And with Dean, that's a difficult thing to do. Even though he's shown interest in Danielle L., it's clear that he still has strong feelings for Kristina and the clues that Dean and Kristina are dating after Bachelor in Paradise prove that they just might be meant to be.
Even though filming is over for Season 4 of Bachelor in Paradise, the cast members are understandably not supposed to reveal to the public anything about the relationships or results of the season. But there are definitely some clues about Dean and Kristina that suggest their relationship made it beyond filming. As an avid Dean supporter from back when he was on Rachel's season of The Bachelorette, I do agree that some of what's happened with Kristina and Danielle L. could have been handled better (i.e., not making Kristina feel that things are good and then make that whole half birthday cake gesture for for Danielle L. right in front of her).
But now that filming is over, there are some definitely clues that make it seem like whatever Dean had with Danielle L. wasn't nearly as important as the budding relationship he'd developed with Kristina before the new contestant arrived.
They've been attending some of the same Bachelor Nation events, and while it's no big secret that former contestants typically make appearances at charity events together, there are a lot of social media photos that include both Kristina and Dean. If they didn't end up together and Kristina gave up on Dean, then there's little chance they'd be comfortable taking fun pictures together.
Kristina seemed to like Dean way before Bachelor in Paradise, too. During his time on Season 13 of The Bachelorette, Kristina was big on live-tweeting throughout the episode each week. She definitely talked about some of the other men favorably, but there are enough tweets Kristina wrote about Dean before Bachelor in Paradise to show how interested she already was. If that interest carried over to the show when she met him, they already stood a chance before they were a thing.
Even though the break in filming for this season of Bachelor in Paradise was at the beginning of the season, Kristina just posted an album of photos on Aug. 19 from her time hanging out with her fellow cast members during the break. And yes, that group included Dean, who she apparently grew even closer to during that time. The fact that Kristina only just posted the photos on Instagram shows that there's definitely no bad blood between her and Dean. Which could also mean that they're dating now.
There are still a few episodes until the season finale of Bachelor in Paradise Season 4, but that's plenty of time for Dean to clean up the mess he's made of his relationship with Kristina. Or at least, that's what I'm hoping for.