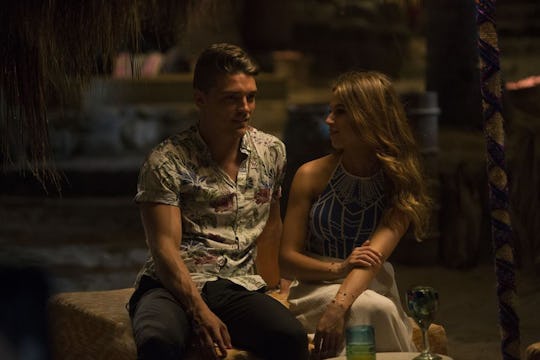 Paul Hebert/ABC
Dean Has A Big Decision To Make On 'Bachelor In Paradise'
It's not Bachelor in Paradise without at least one love triangle, and Dean might have been the first contestant to start one this season with his instant connections with both Kristina and Danielle L. To his credit, it's probably difficult to handle a budding relationship when new men and women arrive at the resort every week, but since he and Kristina had something great going on at first, who will Dean choose on Bachelor in Paradise? Kristina and Danielle L. have both caught his eye and he can't seem to decide which relationship he wants to pursue more.
When Danielle L. arrived in Paradise, Dean had just finished talking to Kristina about taking a breather from their budding relationship, so when the newest cast member on Bachelor in Paradise invited him out on her date, he agreed. Naturally, Kristina was upset and very hurt, but as the day went on it was like a roller coaster ride of emotions between them. Finally, in the evening, he cuddled with Kristina and for all intents and purposes, seemed like he was still interested in her. Then came the half birthday cake for Danielle L. and once again, Dean found himself caught between two women, both of whom he'd been pursuing.
It's tough to say who Dean chooses on Bachelor in Paradise, but he did admit to falling in love while on the show, so there's a good chance he made a decision either way. In an interview with Glamour, Dean revealed that he did fall in love while on the show this season. "Did I find love in Paradise? Yeah, I'll be honest with you. I did find love in Paradise," he admitted. "Yeah. I don't see any need to hide it." But of course he was a lot more coy when asked if he's still in love: "That's the kicker! That's the million-dollar question. I guess we'll have to tune in to find out. That's what the live reunion is for!"
Since Dean and Kristina hit it off right from the beginning and even spent time together while production was stopped for nine days, they almost seemed as sure of a thing as Derek Peth and Taylor Nolan, but for Dean, it seemed like they started off too intense too fast. How he went about pursuing someone else, though, wasn't exactly gentlemanly. His date with Danielle L. kind of continued the wedge that he'd already started to drive between himself and Kristina and since he couldn't make a decision between which women to exclusively pursue romantically, he seemed content to keep things as they were with Kristina.
Now that filming has wrapped and all of the contestants are home, it's unclear who Dean chose to be with, but I like to think Dean's prior connection with Kristina won him over. But if his plans are to stick with Kristina, he definitely has some explaining to do, because seeing a Bachelor favorite cry like that was not cool.