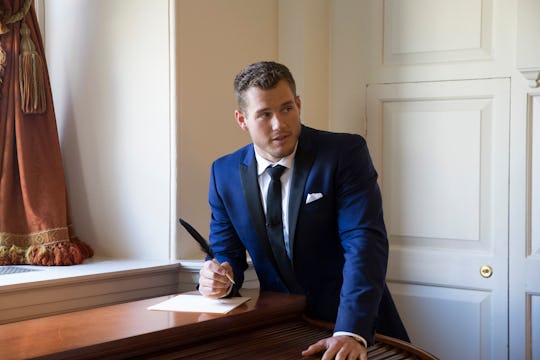 Paul Hebert/ABC
Colton Finally Revealed His Big Secret On 'The Bachelorette'
It's no big secret that so far on Becca Kufrin's season of The Bachelorette, Colton Underwood has been a fan favorite and a favorite of Becca's. Even after he admitted to having a previous relationship with former Bachelor contestant Tia Booth, he still managed to win Becca over, so he can basically do no wrong. But when Colton revealed he's a virgin on The Bachelorette Monday night, it threw her for a loop. As fans, we already knew plenty about this, as it's been teased in more than one promo for the season, but for Becca, who was getting to know this group of men as quickly as she could, it was a pretty big shocker.
To Becca's credit, she was totally understanding and took the revelation with as much grace as you'd expect. After taking a minute for herself to collect her thoughts — which was totally understandable — she came back and soon after, all was well again. And where Colton was worried and concerned that the big reveal would end in Becca sending him home, she opted to keep him around because of their mutual growing feelings for each other.
When Colton admitted to having had a brief weekend-long relationship with Tia, tons of thoughts no doubt flew through Becca's mind. But with the reveal that he's actually a virgin, it's safe to say that thing with Tia obviously didn't go all that far.
Earlier in the season, I definitely expected Colton to reveal the truth about his virginity even before he told Becca about his past with Tia. During one episode, he told producers, "I'm really nervous about tonight. Becca and I are going to have our first big conversation. There's something that Becca doesn't know about me that I need her to know. And it's something that has been worrying me since the moment I stepped out of the limo on night one." Of course most fans figured that this could be the big reveal, but it was apparently one of two secrets Colton had been harboring.
Now that Colton finally revealed that he's a virgin and Becca, they can hopefully work toward building an actual relationship. Or the pressure will be too much for Becca and she'll end up sending him home before it gets down to the wire. When fellow Bachelor Nation star Ashley Iaconetti appeared on season 19 of The Bachelor, she was the franchise's first vocal virgin and her virginity continued to be a part of her story going into Bachelor in Paradise and then The Bachelor Winter Games. After that, Ashley I. told People that she was done talking about her virginity, or potential lack thereof, and now it would seem that she's inadvertently passed the Bachelor Nation virginity torch to Colton.
Prior to Colton going on The Bachelorette and even dating Tia, he was in a serious relationship with Olympic gymnast Aly Raisman, who's been pretty silent about Colton and his appearance on The Bachelorette. He told Becca that his reason for remaining a virgin was because he spent so much time focusing on his football career and because of that, had less time for women. So it had nothing to do with the women from his past, but more so his busy career and goals that got in the way.
Since Colton is simply waiting for the right woman to come along and the right circumstances, then maybe Becca is it for him. But if it comes down to it and he's still around as we get closer to Hometown Dates and Fantasy Suite dates, depending on how close they are, Becca may not be ready for the responsibility of being the first person Colton sleeps with. I can definitely see a mutually tearful goodbye with Becca telling Colton that she wishes she could be what he needs, etc., but that's just Bachelor Nation for you and there's still another week to go before things get that serious.