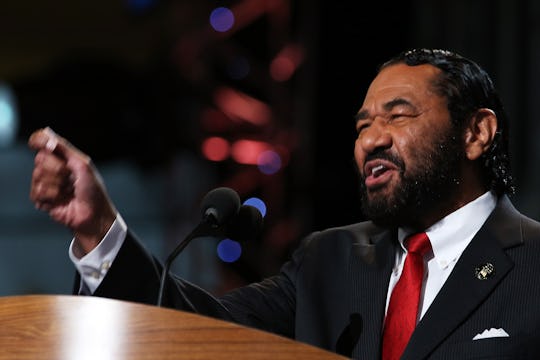 Chip Somodevilla/Getty Images News/Getty Images
Congressman Calls For Trump's Impeachment On House Floor
On Wednesday, Texas Rep. Al Green called for President Donald Trump's impeachment on the House floor, addressing House Speaker Paul Ryan directly. "Mr. Speaker, I rise today with a heavy heart," Green began his speech. He continued, "I rise today, Mr. Speaker, to call for the impeachment of the President of the United States of America for obstruction of justice." Green, a Democrat representing Texas's ninth district, was quick to note that his call for Trump's impeachment was not for "political purposes" but out of dire concern that American "democracy is at risk." Clearly, Green didn't mince words as he delivered an impassioned speech on the House floor, urging his colleagues to act.
Earlier on Wednesday, Green had tweeted his plans to call for Trump's impeachment, following a press conference on Monday in which Green publicly called for the impeachment of Trump, telling reporters at his district office in Houston, "President Trump is not above the law." Green has based his case for impeachment on Trump's firing of former FBI Director James Comey last Tuesday, citing a tweet from the president the representative called "threatening" in a statement on his website. Green spoke for over five minutes, telling his congressional colleagues that he "will not be moved."
Green's speech calling for the impeachment of Trump comes just a day after a poll found that 48 percent of Americans think Trump should be impeached. The poll, conducted by Public Policy Polling, surveyed participants between May 12–14, which followed Trump's firing of Comey and his meeting with two Russian officials. However, the poll did not take into account a report from The Washington Post saying that Trump disclosed highly classified Israeli intelligence to the Russian officials, as the story broke after the poll was conducted.
Here's what makes Green's speech calling for Trump's impeachment on the House floor so profound: Green is the first member of Congress to officially request the House seek formal charges against Trump. Just a quick refresher, as Green also noted in his speech — impeachment doesn't kick the president out of office; that's up to the Senate. But in order for the impeachment process to begin, the House must take up articles of impeachment, that is, specifically naming charges against Trump. It's then up to the Senate to decide whether Trump remains in office, should the House vote to impeach him.
Meanwhile, House Speaker Paul Ryan spoke to reporters Wednesday morning, recapping a closed-door meeting of House Republicans in which he basically encouraged his colleagues to slow their roll on impeachment. "We need the facts," Ryan said. "It is obvious that there are some people who want to harm the president, but we have an obligation to our oversight regardless of which party is in the White House."
While Ryan claims there are those who want to "harm the president" and that Congress has an obligation to act in oversight of the Executive branch, what recourse is there when the president's actions could irreparably harm the American people, or, as Green noted, democracy itself? While Green's call for impeachment may not have triggered any formal congressional proceedings Wednesday, it's important first step to bolster the case against Trump.