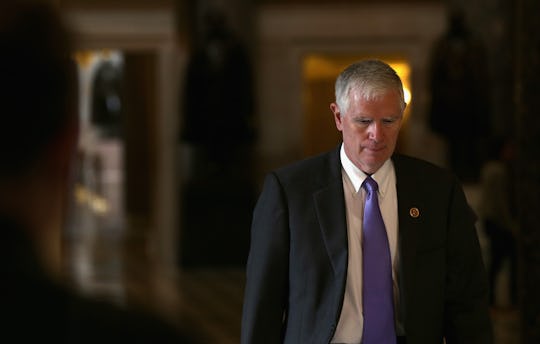 Alex Wong/Getty Images News/Getty Images
Congressman's "War On Whites" Comment Is Awful
The confirmation hearings for President-elect Donald Trump's Cabinet appointments were bound to be a little messy, given the divisive 2016 election season. But Alabama Sen. Jeff Sessions' confirmation hearing for attorney general has been especially brutal, since the prospective appointee has decades of a legislative career to defend. So far, the hearings have been mostly centered around his Republican friends declaring their friendship on record and offering soft questions while Democrat senators question his record on civil rights and criminal justice reform. But the Democrats' line of questioning seemed to get to some Republican senators on Wednesday. Sessions' friend and possible successor, Alabama Rep. Mo Brooks, said that Sessions' hearing is about a "war on whites," which is exactly the kind of comment that Sessions himself (and any American) might find cringeworthy. At the very least.
Brooks is totally killing Sessions' vibe with a racist statement like that. Sessions has been batting accusations of racism away whenever they come his way throughout the hearing, though his record is murky when it comes to civil rights. Brooks, who is up for a senator seat if Sessions gets the attorney general gig, kind of ruined that when he talked about "a war on whites" this week.
Brooks said during a radio interview on "The Morning Show With Toni & Gary," a local Alabama radio station, that the questioning of Sessions was getting out of hand, in his opinion. Brooks said, "It's really about political power and racial division and what I've referred to on occasion as the 'war on whites.' They are trying to motivate the African-American vote to vote-bloc for Democrats by using every 'Republican is a racist' tool that they can envision."
Let's just get this straight right now — there is no "war on whites" and if you need to take a minute to gasp for air knowing that a prominent senator would say something like that in defense of an incoming attorney general, go ahead, take a minute. Come back.
Sessions has a questionable record when it comes to voting rights and criminal justice reform — all things that an attorney general will have to deal with right away, as soon as the President-elect takes office, which is why Democrats are trying to ask some tough questions. (They aren't doing a great job so far.)
When Trump and his team take office, they will have to either decide to carry on with efforts to support movements like Black Lives Matter and LGBTQ issues like the transgender bathroom bill in North Carolina or move on.
Under President Obama's guidance, sitting Attorney General Loretta Lynch has taken a progressive stance on those issues. Sessions, if he were appointed to be the nation's lawyer, would be the guy who calls for investigations into police shootings of unarmed black men or holding states accountable for breaking anti-discriminatory laws when it comes to who can use what bathroom.
An ally like Brooks, who wants to frame those conversations as a "war on whites," should be really scary to any voter. There is no war on white people. Brooks' first thought when watching his friend, Sessions, being grilled in front of a Senate sub-committee was to declare a "war on whites." That's not a thing. And it's problematic to say the least.